Advance Electrostatics, makers of powder coating testing instruments, now offers a portable precision high voltage probe designed to measure DC voltages up to 100 KV.  The probe, the KVM-100 comes with 3/4" round ball tip conical semi-pointed tip and convenient carrying case.
The KVM-100 is a precision high voltage probe designed to measure DC voltages up to 100 KV.
· The KVM-100 consists of a probe containing high voltage resistors and a 4 ½ digit display both incorporated into one portable hand held unit.
· The probe resistance is greater than 10G ohm to minimize loading of the high voltage source.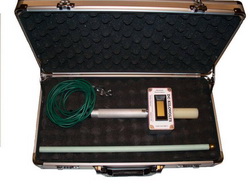 · The KVM-100 is factory calibrated to better than 0.1% with a reference probe traceable to NIST standards.
· The KVM-100 has removable probe tips that provide the user the ability to change tips to accommodate the high voltage source being measured. A 3/4″ ball tip is included with the probe and a conical semi-pointed tip can be purchased if desired. If a special tip is required please contact our engineering department.
SKU/Item Number: KVM100C
Comes with a 1 yr. limited warranty.
You can see the Instruction Manual for the KVM-100 here.
or simply call them toll free: 1-888-901-0003
All their Advanced Electrostatics products are manufactured in the USA so you know they're reliable and they provide jobs for Americans.

They offer a variety of products for the powder coating industry. With over 30 years in the industry, the experience and knowledge of their staff allows them to provide reliable solutions for your business.
Click this link to see a list of the quality powder coating testing instruments offered by Advance Electrostatics.
The sole mission of Advance Electrostatics is to provide you, the customer, with superb service and the individual care your company deserves. They take great pride in their ability to offer their customers with low cost, high quality reliable products.