The Chemical Coaters Association International and Products Finishing magazine are pleased to announce the development of a new powder coating three-part training webinar series, Maintaining A Quality Finish. This three-part series will be presented by CCAI corporate members who have proficient knowledge and experience with each of the webinar topics.
REGISTER FOR Webinar, PART 3: SEP 13, 2017
See the Flyer (pdf)
Many industrial finishing systems have been designed, installed and operated to produce a quality finish. However, the ability to produce that quality finish on a continuous basis can be challenging. There are many aspects of the overall process that need to be understood and controlled. This webinar series is intended to provide valuable information on how to obtain, and maintain, the quality of each critical aspect of the overall industrial finishing process to ensure a consistent and repeatable finish. The presentations will also include examples of what can go wrong, the potential defect and appropriate solutions.
The first webinar, entitled Hanging Methods and Pretreatment Solutions, took place on Wednesday, May 17th at 2:00 PM EDT with featured speakers Bill Oney of Therma-Tron-X and Larry Ensley of Hubbard-Hall.
The presentation covered all types of hooks and hook options for the end user as well as considerations for design to promote performance, ergonomics and cost savings. Case studies and examples of improved tooling projects were presented.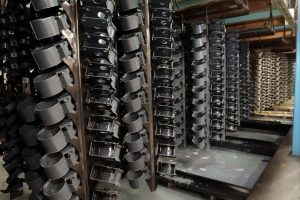 This webinar also addressed the pretreatment process, a vital step in surface finishing. Having the correct equipment and latest pretreatment chemistry can provide increased corrosion protection and better paint adhesion as well as help reduce energy requirements, waste treatment costs, labor and water consumption. This webinar also briefly covered the equipment requirements ranging from manual spray wand to multi-stage applications.
On Tuesday, July 18 at 2:00 PM EDT, the second webinar in the series, Drying, Cooling and Curing Technologies, will provide attendees with principles and best practices to heat and cool various substrates as they pertain to maintaining a quality finish.
This will include general criteria on sizing and designing dry-off ovens and cooling. This session will also cover flash requirements for liquid paints and paint applications, such as wet-on-wet application.
Common problems associated with incorrect flash design and an overview of ovens and curing equipment, including convection, infrared, convection/IR combination, and ultraviolet will be also be presented along with typical problems associated with improper cure.
CCAI members Sam Woehler of George Koch Sons and Tony Scoville of Hubbard-Hall collaborate to provide the technical content.
Part three, Coating Materials and Application Techniques on Wednesday, September 13 at 2:00 PM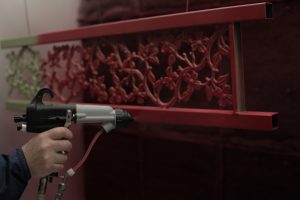 EDT rounds out the series. Dan Szczepanik of Sherwin-Williams along with John Owed and Eric Fritz of Carlisle Fluid Technologies, will present
Attendees will learn how to choose the best method for maintaining a quality finish and achieving consistent results through real world examples.
Learn how to choose the correct product for the job and how to establish the right quality controls to improve your production process and product quality.
The webinar will also cover the fundamentals of the electrostatic process: application, coating resistivity and substrate grounding. This session will describe the equipment application variables, how to adjust spray pattern and select the starting point for application parameters and application techniques to optimize the coating process.
Attendees may register for one, two or all three webinars; there is a separate registration for each date. Webinars are a great way to get training without time away from the office and travel expenses.
To see a full list of upcoming CCAI training events, Click Here.