FABTECH is where the industry comes together to see what's now, what's new and what's next. It's where connections are made and where deals get done. See cutting-edge exhibits, learn from expert-led education, network with peers and more, Nov. 6-8 at the Georgia World Congress Center in downtown Atlanta.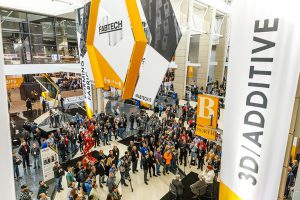 As they've done for eight years, CCAI hosts the FINISHING PAVILLION, the most popular part of FABTECH for powder coaters and finishers. The FINISHING PAVILLION is packed with suppliers that will bring countless products, services, innovative ideas and equipment to attendees interested in all aspects of the finishing industry.
With a short time to go until the show opens its doors, the FINISHING Pavilion at FABTECH 2018 is sold out with nearly 200 exhibitors. 35,000 attendees are expected to visit the show floor that covers over 650,000 net square feet of exhibit space.
Finalizing plans to attend FABTECH now is critical to ensure you get the best hotels at the best rates, secure reasonable airfare to Atlanta, and reserve seats in the finishing education sessions.
Click here for hotel information 
but if you don't have your reservations already…good luck.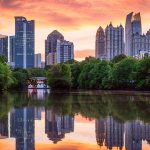 Visitors are encouraged to attend FABTECH for multiple days to take advantage of everything the event has to offer. "You can't explore the show floor, participate in education sessions and attend our special events in one day," says CCAI Executive Director Anne Goyer. "There are so many things to see and do at FABTECH that you need two or three days to visit with exhibitors, attend sessions that are important to you and enjoy networking events that allow you to meet other attendees."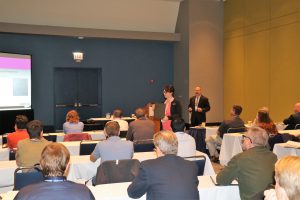 CCAI is offering 30% off ANY FINISHING educational session by using promotion code FINISHING30 when you register.
For those who have already registered for the show, you can go back into your registration and add education sessions and use the promotion code when doing so.
This offer is ONLY available for CCAI's FINISHING sessions. Take time to review all the FINISHING sessions and presentation descriptions on the FABTECH website under EDUCATION. You can also review all the FINISHING sessions on CCAI's website: www.ccaiweb.com.
SPECIAL FINISHING EVENTS

2018 will mark the second year of CCAI's FAB to FINISH Production Experience.
The program offers FABTECH attendees the opportunity to experience part production from fabrication through finishing on the exhibit floor. Participants will pick up their part  in the fabrication portion of the show and will be directed to exhibitors in the FINISHING PAVILLION where the parts will be pretreated, coated and cured for attendees to take back to their plant or office.
On Wednesday, November 7, CCAI will host a Women in Finishing reception. The reception will be held in the CCAI booth (B4700) at 4:00 PM and is an opportunity for women in the finishing industry to network and socialize with their peers.
"We have expanded this program and are excited to share additional Women in Finishing events with attendees," noted Women in Finishing manager, Sheila LaMothe. "Our response to this program has been so positive that offering more activities for this group is a natural progression."
FABTECH 2018 CCAI EDUCATION PROGRAM & FINISHING PAVILION EXHIBITORS

Complete details on CCAI's FINISHING Education Program and list of FINISHING Pavilion Exhibitors can be found on CCAI's website here: www.ccaiweb.com/conference.
Updates to this information can be found on the show website: www.fabtechexpo.com.
Scroll over Exhibitor Directory to view the floor plan, list of exhibitors, show planning tools, and more. Details and registration information for the education program can be found under the EDUCATION tab.
FABTECH GENERAL INFORMATION
LOCATION: Georgia World Congress Center, Atlanta, GA
DATES: November 6-8, 2018
SHOW DATES & HOURS:
Tuesday, November 6     10:00 AM – 6:00 PM
Wednesday, November 7     9:00 AM – 5:00 PM
Thursday, November 8      9:00 AM – 4:00 PM
SHOW WEBSITE: www.fabtechexpo.com
FEES and CCAI MEMBER DISCOUNTS:
FREE Show Registration: Enter promo code FBCCAI when registering on-line by November 3 or present your CCAI membership card at on-site registration in Atlanta. Otherwise, after November 3, there is a $50 fee to register for the exhibition.
Education Program Discount Registration: CCAI offers an additional 30% off FINISHING Education Program registration by entering promo code FINISHING30. CCAI members also receive a special member rate as shown on the website. Not a CCAI member? Visit www.ccaiweb.com and click the JOIN tab.
HOTELS: FABTECH has negotiated the lowest hotel rates for exhibitors and attendees at the most popular and convenient hotels in Atlanta. Act now to book your rooms through onPeak, the official hotel provider for FABTECH. Visit click HOTEL/TRAVEL to reserve your room(s) now.
TO REGISTER: click REGISTER

# # #