11 Stage SS Pretreatment System from Volvo Plant
$49,500 OBO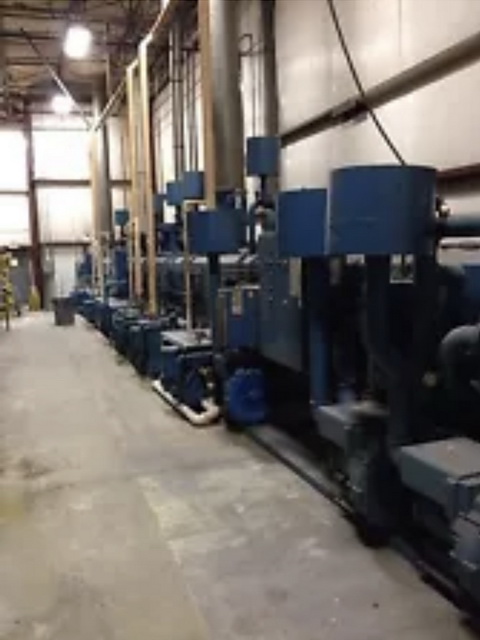 All in one Pretreatment System ready to go. Great way to get into the finishing business or to expand your existing operation.
Bought new in 2002 at a price of $875,000.
Low hours from single shift plant.
Very good condition as removed from service.
Will provide loading service.
Contact:  Matthew Dalton  606-688-1302 or matthewdalton2013@yahoo.com

SCROLL DOWN FOR MORE PICTURES
GENERAL DESCRIPTION
Kemac 18″ W x 12″ T Stainless Steel Parts Washer
WASH, RINSE, PHOSPHATE RINSE, SEAL COAT, and DRY
Serial No. 101686, 101687, & 101688
Equipped with Siemens Controls
Sonic air knives and stainless steel mesh belt (1″x1″).
SPECIFICATIONS
Conveyor Speed 0-18 FPM
|System Opening Size Width x Height 18" x 12"
Max Load Weight 1500 lbs. on belt
Power Supply 460Volt 3 Phase 60 HZ
Water Supply ½" NPT Auto Water Fill
Water Discharge 2" NPT Gate Valve
Wash Pump 7.5 HP 220 GPM @ 35 PSI
Wash Tank 600 Gal.
Wash Tank Heat Natural GAS 900,000 BTU Burner
RINSE 1
Rinse Pump 5 HP 140 GPM @ 35 PSI
Rinse Tank 500 GAL
Rinse Tank Heat Natural GAS 500,000 BTU Burner
PHOSPHATE RINSE
Rinse Pump 3 HP 90 GPM @ 35 PSI
Rinse Tank 200 GAL
Rinse Tank Electric Heat 24 KW
RINSE 2
Rinse Pump 3 HP 90 GPM @ 35 PSI
Rinse Tank 200 GAL
Rinse Tank Electric Heat 54
SEAL COAT
3 HP 90 GPM @ 35 PSI
200 GAL
Electric Heat 36 KW
Blower Performance Dry Chamber 2 @ 10 H.P.
Blower Performance Quite Zones 5 @ 7.5 HP
Exhaust Motor 1 HP
ZONE CONFIGURATION
Zone 1: 4′ Quiet Zone
Zone 2: 16′ Heated Wash Chamber
Zone 3: 2′ Quiet Zone
Zone 4: 4′ Rinse Chamber
Zone 5: 2′ Quiet Zone
Zone 6: 4′ Heated Phosphate Rinse
Zone 7: 2′ Quiet Zone
Zone 8: 4′ Rinse Chamber
Zone 9: 2′ Quiet Zone
Zone 10: 4′ Seal Coat Chamber
Zone 11: 13′ Drying Chamber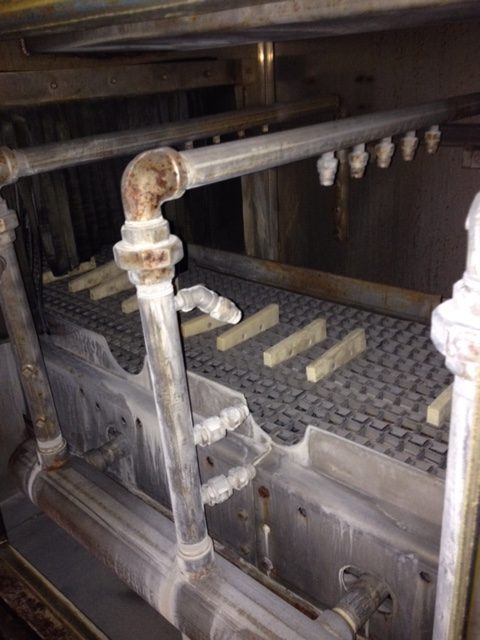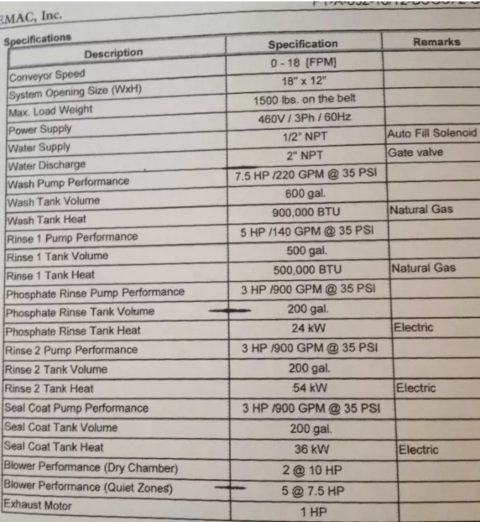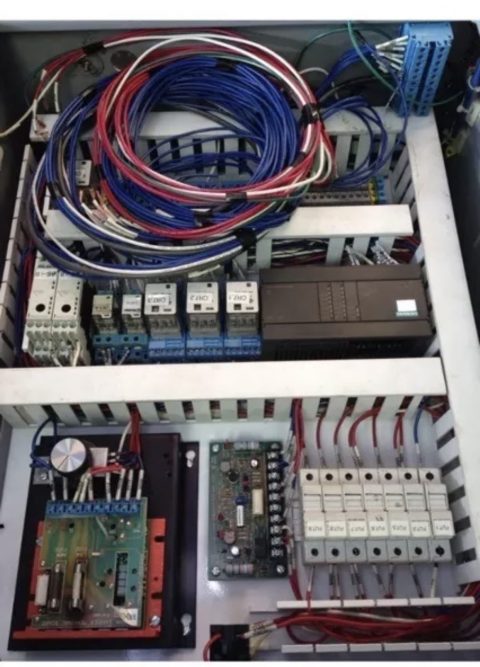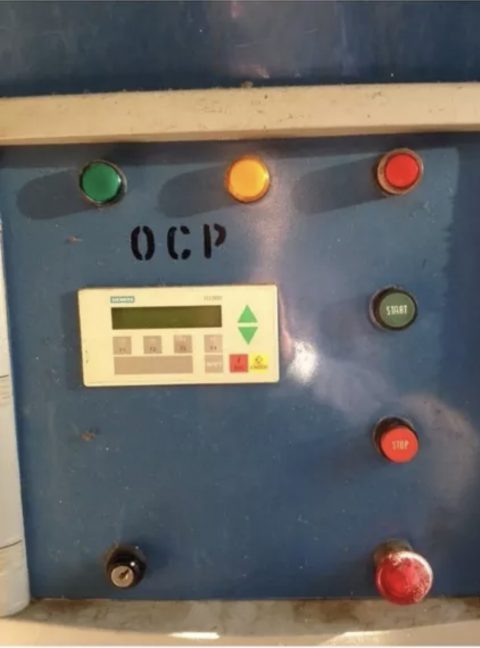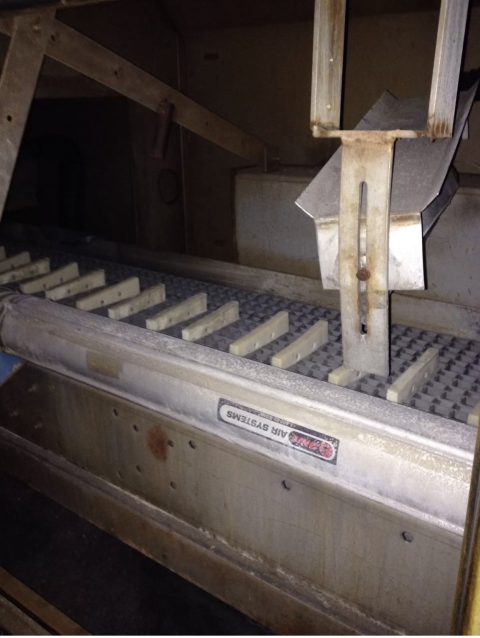 Contact:  Matthew Dalton  606-688-1302 or matthewdalton2013@yahoo.com