Col-Met Engineered Finishing Solutions is dedicated to educating the Industrial Finishing Industry.
Their creation is THE COL-MET ACADEMY.

The objective of The COL-MET ACADEMY is to build and  reinforce product  knowledge and confidence.
To date, Col-Met has held numerous different webinars, with an attendance totaling thousands of customer and distributor partners, based on topics such as converting your spray booth to LED lighting to help save energy, reduce maintenance time and generate cost savings.
The webinars are all recorded and then posted to the Col-Met YouTube channel as reference tools to assist with training new hires.  Or, if you prefer, you can watch the presentation on PDF slide show.
Col-Met is dedicated to  providing educational webinars to help educate the industry.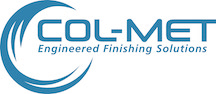 About Col-Met:
Col-Met Engineered Finishing Solutions is the market leader in spray booths, ovens, washers, AMU's and other finishing components and new product innovation. Our philosophy is to deliver value through quality, service and engineering capabilities.
Col-Met operates with strong leadership and principles, challenging ourselves to make Col-Met and even better company by focusing on core values such as honesty, integrity, growth, and doing things right the first time.
COL-MET ENGINEERED FINISHING SOLUTIONS
2975 Discovery Blvd.
Rockwall, Texas 75032
Toll Free: 888-452-6684
Phone: 972-772-1919
eFax: 972-408-0881
Email:  sales@colmetsb.com