Powder Coating Systems
Col-Met Engineered Finishing Systems
More than Quality Spray Booths…Col-Met is your finishing consultant and business partner.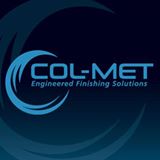 Col-Met Engineered Finishing Solutions is the market leader in not only spray booths – what they're most known for – but also ovens, washers, AMU's and other finishing components.
What makes Col-Met different from the other manufacturers is their exceptional products provide a cleaner, safer and functionally optimized workplace and they are always there with you every step of the way to help improve your business.
With installation startup and service, technical support, product training and maintenance, and sales assistance available, Col- Met is ready when you need them most. Col-Met professionals always have time for your questions and concerns, or even to discuss the finishing industry and what the future may bring for you.
Regardless of your application, Col-Met's products will not only meet but exceed your needs and expectations.
Their technical support is outstanding and they also offer optional factory training.
The Col-Met motto: "We challenge ourselves, and each other, to always make Col-Met and even better company today than it was the day before. We do this by focusing on our core values of Honesty, Integrity, Growth, Diversity and believing that when you do the right things the right things will happen".
Briefly put, Col-Met is the kind of company you want t work with and that you wish every other company was like.
Visit the Col-Met website to see the entire product offering and read more about this exceptional company: Colmetsb.com
In January, 2015, Col-Met broke ground on a new facility in Rockwall, TX.
This new facility, Founder and CEO Eric Jones explains, how this new expanded facility will allow Col-Met to achieve its aggressive growth strategy for the long term.
The new 150,000 sq. ft. building has the capability to grow to over 200,000 sq. ft and includes office space to support expanded business, state of the art manufacturing space, and training room designed for distribution partners and for industry members.
Want to know more? Contact sales@colmetsb.com
PowderCoatingOnline 256-837-1490 info@pcoaters.com