D-Zolve™ 15-33 IM from Solvent Kleene is The High Performance, Eco-Friendly Aircraft Coating Remover that meets the chemical requirements for safely removing coating from aircraft wheels, landing gear components and other support equipment parts.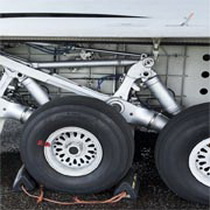 D-Zolve™ 15-33 Immersion Aircraft Paint Stripper is:
*  USAF Mil PRF.83936C
*  Non_Hazardous
*  No Chlorinated Components
*  Non-Flammable
*  No Hydrogen Embrittlement
*  Non-Corrosive
Immersing parts in D-Zolve removes several layers of difficult-to-strip epoxy, flexible polyurethane, polyurethane topcoat or fluid resistant coating and is suitable for use with aluminum, magnesium, cadmium plated steel and other ferrous and non-ferrous metals.
Easy to Use
To maximize efficiency and reduce waste, D-Zolve 15-33 IM exhibits a long active life and slow rate of evaporation. D-Zolve 15-33 IM designed for tank immersion stripping. Heating the tank solution to 125°F and adding agitation further accelerates D-Zolve's performance.
Reduces Health and Environmental Risks
Designed to minimize health and environmental risks, D-Zolve 15-33 IM is non-carcinogenic, non-flammable, non-acidic and contains no chlorinated components. It has minimal or no hazardous air pollution potential.
Request a free sample of D-Zolve™ 15-33  – visit Solvent Kleene website
Solvent Kleene produces a wide range of aircraft, automotive and industrial paint and powder coating removers, strippers and degreaser cleaners. All products are designed to offer high performance without compromising workplace safety or the environment.
See the full range of Solvent Kleene's products by visiting their website: SolventKleene.com 

The FAA recommends that most non-metallic materials such as tires, electrical insulation, canopies, fiber reinforced composite materials, some sealants, synthetic rubber parts, and acrylic plastics be protected against possible contact with any paint remover.