We are seeking dedicated sales professionals from the metal coating, powder coating, metal surfacing & engraving, lacquering and allied services to industries to join us in our next phase of national expansion. If you are a sales / business development professional from the industry or within its fringes and are ready to learn our system, we want to hear from you.
About Us
Decoral System offers decorative coating services in North America through its extensive network of licensees. Decoral System USA is a company with over 40 years of experience in research, development and manufacturing of decorative powder coating systems.

Decoral is considered the industry leader for architectural, industrial and OEM decorative applications and is a fully integrated company that manufactures every component in its systems. Our company develops its own equipment, powder coatings, transfer films and inks.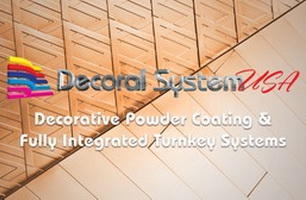 Decoral System USA does everything to enable its customers to create amazingly realistic decorations easily, consistently and economically.
Position Summary:

The RSM will develop and implement sales strategies and forecast sales volumes with the objective of growing revenues and profits by selling machinery equipment/systems to new and existing customers.
Essential Duties and Responsibilities:
• Prepares and negotiates quotes and contracts with potential clients/business partners.
• Meet regularly with existing customers and prospects in sales territory to understand their evolving business needs and position existing portfolios to meet surfaced needs.
• Assist and lead customer's visits to our R&D facility making sure all proper internal personnel is communicated and required documentation is in place (NDA)
• Attend trade shows to promote products and brands.
Position Requirements:
• Bachelor's degree in Business preferred. Technical degree a plus.
• Minimum of 5 years machinery / heavy equipment sales experience, (Desired)
• Experience selling at C-Suite level, VP or Director.
• Demonstrated sales track record, new sales track record & quota attainment
Please send resume along with current Base and Total compensation package to:
julian@decoralamerica.com
Website:  www.decoralamerica.com