Echo Engineering and Production Supplies broadens its already extensive capabilities by acquiring Ammex Plastics, a full-service plastic components manufacturer based near Detroit.

Echo Engineering, headquartered in Indianapolis, has experienced exceptional growth over the last decade and looks forward to accelerating this success with a manufacturing facility located in the heart of the automotive industry.
Moving forward, Ammex Plastics will operate under Echo's umbrella, as Echo Engineering and Production Supplies, Inc. DBA Ammex Plastics.
"Ammex Plastics sets the bar when it comes to providing quality components, ensuring peace of mind for their customers resulting in an unprecedented customer retention rate," explains Kingdon Offenbacker, CEO of Echo Engineering.
Echo's core technologies and Ammex's product offerings align seamlessly.  Ammex's reputation for producing items of superior quality while maintaining fast turnaround times matches that of The Echo Way, Echo's commitment to build partnerships and provide lasting solutions for their customers.
Echo's extensive resources, coupled with Ammex's domestic injection molding capabilities, will allow Echo to increase its product offerings to new and existing customers of both companies, as well as their market share within the automotive plastics industry
About Ammex Plastics
Ammex Plastics, based in Monroe, Mich., is a plastic injection molding company primarily serving the automotive industry by manufacturing fluid routing, fastening, interior, and suspension system components – including clips, mounts, fittings, isolators, bumpers, and quick connects.
As an ISO/TS 16949:2009 registered company, Ammex Plastics has maintained a quality defect rate of under 0.5 PPM (Parts per Million).
Their services include engineering & product design, custom injection molding, and decorating & assembly operations. Ammex Plastics has 47 full-time employees and their facility houses 17 injection molding machines, 3 more presses currently being ordered to account for increased production.
About Echo Engineering and Production Supplies, Inc.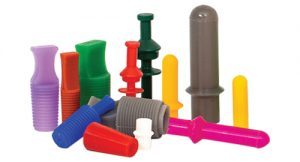 Since 1966, Echo has served world-class companies in diverse industries by providing them with both custom and catalog parts which focus on masking, protecting, and hanging, as well as rubber and plastic OEM components aligning with five core technologies – connecting technology; sealing technology; fastener, clip, and tie technology; housing, class A static and dynamic technology; and NVH management technology.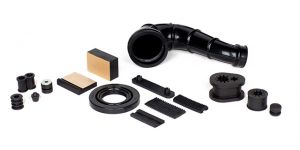 These rubber and plastic components include gaskets, O-rings, grommets, clips, and charge port caps, utilized in multiple industries such as automotive, heavy equipment, agriculture, and recreational vehicles.
Echo has a broad selection of materials available that meet various performance requirements, and Echo's operations include multiple stocking locations (Indianapolis; Milpitas, Calif.; Guadelajara, Mèxico), in-house converting, and extensive molding capabilities.
Echo maintains their 97% customer retention rate by providing strong support in engineering, manufacturing, quality, and logistics to meet customer requirements and exceed expectations.
Contact:
Lee Lechner
Echo Engineering and Production Supplies, Inc.
812-827-6197
llechner@echosupply.com
www.echosupply.com