Echo Engineering and Production Supplies, Inc., introduces shower caps as a new standard catalog product in January 2018.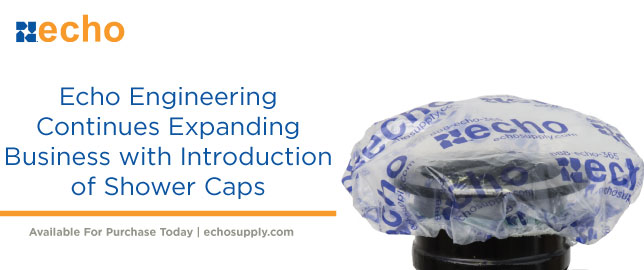 Echo's catalog shower caps aid protection for manufacturers looking to cover large openings or intricate parts at a low cost.
Because of the elastic band in the cap, shower caps wrap tightly around the part to ensure the component is clean from unwanted dirt, debris, and moisture.
Echo's catalog shower caps are available online or by phone in eight sizes, and are made from 0.05mm thick, clear polyester.
Although shower caps are new to the catalog, they're not new to Echo. For the last few years, Echo supplied custom shower caps for multiple manufacturers, like engine manufacturers, to keep their products clean throughout the manufacturing line, shipping, and storage.
Echo's shower caps join the protection product category, which includes plastic caps, plugs, and netting with the purpose of protection against contaminants.
Catalog shower caps are now available for online purchase at echosupply.com.
Please visit the website for additional size information and prices or call us at 888.echo.365 to speak with a professional. Echo offers same day shipping before 3 P.M. EST for in-stock catalog products.
Echo Engineering and Production Supplies, Inc., headquartered in Indianapolis, Indiana, continues to serve world-class companies in diverse industries by providing them with both custom and catalog solutions, which focus on masking, protecting, and hanging, as well as rubber and plastic OEM components.
Contact Information:
Echo Engineering and Production Supplies, Inc.
Lee Lechner
812-827-6197
llechner@echosupply.com