Gema OptiFlex®2 F Spray gun integrates advanced pump technology in the newest version of their OptiFlex®2 Series manual powder coating gun. This advanced manual powder coating gun integrates advanced pump technology and is specially designed for applications that require high film builds or precise and constant powder outputs when using long powder hoses.
By incorporating the OptiSpray AP01 application pump in conjunction with Gema's proven OptiFlex®2 Series gun and control, users will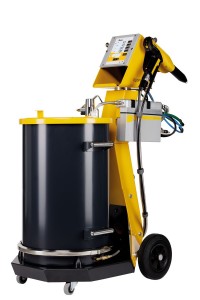 experience excellent coating consistency and quality. The OptiFlex®2 F Spray delivers these results by using the innovative single-chamber design based on the SIT (Smart Inline Technology) concept. This configuration guarantees a constant and reproducible coating result over a long period of time, even with challenging powders. The use of the OptiSpray AP01 unit enables easy and quick color changes and powder savings of up to 15%. 
The OptiFlex®2 F Spray manual unit is available in different configurations for various applications:
* The OptiFlex®2 F Spray version with one AP01 pump achieves a powder output of up to 300 g/min.
* The model version with two AP01 pumps handles a powder output of up to 600 g/min and is ideal for heavy-duty corrosion protection applications and the coating of pre-heated parts.
Using the AP01 application pump in combination with the advanced OptiSelect manual gun and precise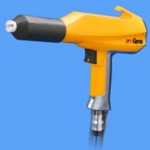 OptiStar gun control unit makes OptiFlex®2 F Spray a powerful application device. OptiFlex2 F Spray delivers precise and repeatable output control, low or high film builds, low or high powder output, all while producing the highest transfer efficiency.
More information on the OptiFlex®2 F Spray can be found at www.optiflex2.com.
OptiFlex® is a registered trademark of Gema.
###
Gema, a Graco Inc. company, is the global leader in powder coating technology. From manual units to fully automated systems, Gema offers solutions to satisfy customers in a wide variety of end markets. Gema has worldwide headquarters in St. Gallen, Switzerland and a broad worldwide distribution network. Gema operates its North American Headquarters from Indianapolis, Indiana.
For more information, contact Karen Walters, (317) 298-5072 or kwalters@gema.us.com or on the web at www.gemapowdercoating.com.