Situated in the Sunshine State, JAS Powder Coating is one of the premier service providers of powder coating solutions in the Broward County, Fort Lauderdale, and South Florida area. They provide metal finishing services to enhance, protect, and beautify a range of metal products.
Recently, JAS Powder Coating partnered with Frank Lowe for our WOW Pads. Frank Lowe sat down with JAS Powder Coating business owner and general manager, Ellen Reinig to learn more about how our shipping pads helped their business save time, money, and create efficiencies. Continue reading to learn more.
Protecting Powder Coated Metal Products
As a job shop, JAS Powder Coating processes aluminum, steel, and other metals. They actively receive metal products in a range of configurations, shapes, and sizes that come in trucks, pallets, and boxes. Because there is very little rhyme, or reason to when jobs come in; JAS must be ready to quickly process and pack finished products so it can be shipped back out. And Frank Lowe's shipping pads are proving to be an excellent value-add solution. Ellen explains:
"We get a lot of fencing and railing manufacturers that send us pallet loads of fencing and rails. To save space and effectively process metal, we like to stack these products on a pallet. Frank Lowe's shipping pads are the perfect solution for allowing us to confidently stack these finished products on pallets with cushioning, so they don't rub against other pieces and cause the powder coating to chip off. It also secures the finished products, so when we move the pallet the entire stack doesn't slide."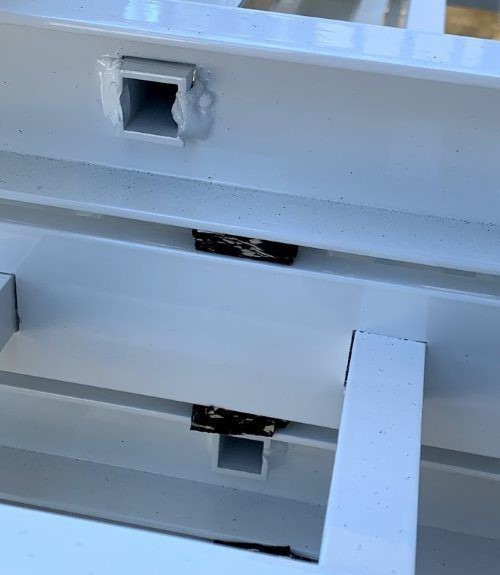 Frank Lowe's shipping pads for metal finishing products are one of the most effective solutions for preventing damage to your finished product throughout installation and storage. As a flexible, soft, and versatile solution; shipping pads are engineered to prevent chips, dents, scratches and other types of damage.
"I have found this to be a viable solution. It's very cost effective for us to be able to provide it and works exactly how it's supposed to."
Reducing Product Damage with Shipping Pads
Whether you're in the metal finishing industry, fenestration industry, or any other sector; Frank Lowe works to provide viable solutions that save you time and money. In particular, we regularly partner with metal finishing companies to help reduce and prevent shipping damage to metal finishing products. Ellen continues,
"Even though our products are delivered through the local area, they can still be damaged in the short trip from here to there. Every time the load of rails or pallets of fencing move or absorb a bump in the road, it can result in a scratched finished product. However, Frank Lowe's shipping pads work to help reduce or eliminate shipping damage.
While the pads are small and seemingly tiny, they are extremely helpful and pack a huge value. Simply put, our pallets don't shift, don't move, and are much more secure. As an added bonus, the shipping pads are much more cost effective in comparison to the stuff we used to use — bubble wrap."
Bursting the Bubble Wrap
Today, manufacturers have access to a wide range of materials to help protect their products throughout shipping and storage. One of the most common materials used across the metal finishing and powder coating industry is bubble wrap. This three-dimensional material is made from plastic and was the go-to solution for JAS Powder Coating – until Frank Lowe introduced their shipping pads. Ellen explains,
"Before the shipping pads were presented to us by Frank Lowe, we used a lot of bubble wrap. Our people would use cut wood shims and wrap those shims with bubble wrap to create cushioning between the rails of product, and it would offer an added level of stability to the material. Then we would still have to shrink wrap the entire order to prevent it from moving and shifting in anyway shape or form. This would make it tightly packed. As you can imagine, this process wasn't very efficient."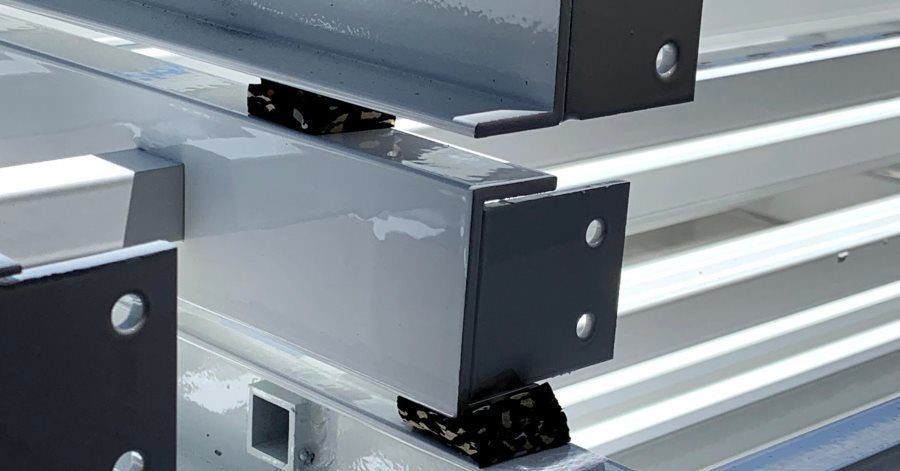 Our shipping pads are a much more environmentally-sensitive solution. Ellen agrees:
"While I am not an environmentalist, bubble wrap is expensive and not very eco-friendly. For example, when people are at a job site working to unpack and install rails, you can literally see yards upon yards of bubble wrap just being thrown in the dumpster because it's not reusable or renewable. In either case, it seems like the biggest waste of raw material ever! Frank Lowe's shipping pads are more cost-effective and exponentially less wasteful."
Explore, Pursue, and Create More…Create Better with Frank Lowe
At Frank Lowe, we pride ourselves in helping our clients do more with less, which is exactly what we did with JAS Powder Coating. We used our experience of working with other metal finishing companies and helped Ellen find a more efficient solution to a problem.
"Previously, I had never worked with Frank Lowe. Randy reached out to me and was basically like "we have this product we think may be very helpful to your business." Because I am always looking for more efficient solutions, I was open to try. When I saw it and understood what it was, I immediately saw the need and thought 'whoever thought of this has solved a real problem." Frank Lowe understood my business and suggested a solution to help me save money, time, and run more efficiently."
Shipping Pads Are an Easy-to-Apply Solution
In addition, our shipping pads are a hit with the JAS Powder Coating team. These easy-to-apply pads require significantly less labor than the seemingly endless wrapping necessary with bubble wrap. In contrast, employees only need to peel the protective backing off the pads and place them on the product for non-slip protection. It's as easy as peel and stick! Ellen extolls,
"Today, we keep our shipping pads accessible to all employees, and my staff enjoys using it. In addition, the shipping pads store easily in our shop and has exponentially reduced our waste."