A new formulation of D-Zolve 917 from Solvent Kleene dissolves rust, strips powder coating, CARC (Chemical Agent Resistant Coatings)  and wet paint.
D-Zolve 917 removes difficult to strip powder coating buildups from the complex bends and contours that shape powder coating hooks and racks.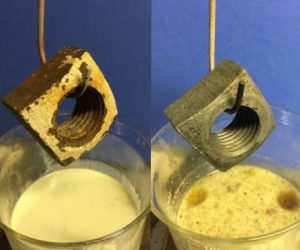 Designed for use in an immersion tank, this formulation contains special additives that alter the properties of D-Zolve enhancing its ability to cling to and penetrate powder coatings.
Once D-Zolve is absorbed into the powder coating, it breaks the bond between the coating and the surface, causing the coating to separate from the part and fall to the bottom of the tank. D-Zolve overcomes surface tension and other challenges associated with removing powder coating build-ups from the complex shapes found in hooks and racks.
Typically a harsh, high temperature burn off followed by an intensive ash washing, or labor intensive sand blasting, is used to remove powder coating build-ups from hooks and racks. Placing tooling in an immersion tank and heating the D-Zolve solution to 135°F/70°C enables fast removal of powder coatings with a minimum of employee involvement. This eliminates the high operating costs and the ash produced by burn-off ovens, providing both an economical and a safe in-house coating removal process.