Nordson Corporation, a recognized market leader in powder coating application technologies, is most well-known for their incredible Encore® line of manual powder coating systems. Their newest addition to the Encore® line is the HD Mobile Powder Spray System – the first commercially available dense phase mobile system to feed from a box. The launch brings all the benefits of dense phase powder spray technology to a powerful, mobile unit for superior process control and material savings.
The Encore® HD mobile powder spray system features Nordson's fourth generation dense phase spray technology. High-density, low-velocity products are can achieve a highly dense phase spray, a more diluted mixture, or anything in between. HD technology delivers a high concentration of powder, but uses very little air. As a result, it provides greater transfer efficiency, less overspray and superior cured finish quality for every conceivable part type.
The Encore® HD mobile spray system achieves all the numerous benefits of dense phase powder spray technology in a powerful, mobile unit:
Cut color change time by 50%
Capable of saving 45% in powder material
Outfitted to increase line speeds up to 65%
Applies more powder where needed, lowering the system's total gun requirements
Provides relief to the operator with fewer painted strokes
Boost quality improvements by 20%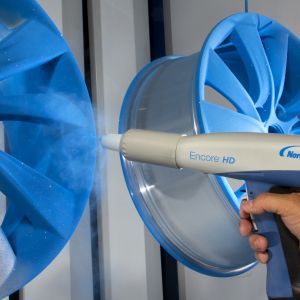 The Encore® HD mobile spray system provides a lightweight, well-balanced spray gun to make the painter's job easier, on-gun controls for fast, easy adjustments, nozzles that are compatible with the entire Encore gun family (XT, LT and HD), and the ability to spray even the most challenging coating materials.
With a decade of experience, over 20 patents on HDLV® equipment, and more than 800 global installations, Nordson leads industry in dense phase technology and expertise.
"Nordson customers are benefiting from HD technology," says Kelly Gregart, product line manager, Nordson powder coating systems. "Compared to traditional venturi systems, the Encore HD mobile system gives you the best process control and lowest operating costs," she says. "It's a truly innovative system."
For more information on powder coating, visit www.nordson.com/powder or call
800-433-9319.
Nordson Corporation (NASDAQ: NDSN) is one of the world's leading producers of precision dispensing equipment that applies adhesives, sealants, liquid and powder coatings and other materials to a broad range of consumer and industrial products during manufacturing operations. The company also manufactures equipment used in the testing and inspection of electronic components as well as technology-based systems for UV curing and surface treatment processes. Headquartered in Westlake, Ohio, Nordson has direct operations and sales support offices in more than 30 countries. Visit Nordson on the web at www.nordson.com, www.twitter.com/Nordson_Corp or www.facebook.com/Nordson.