Check out Nordson's Spectrum® Powder Feed Center; a Closed-Loop Powder Management System Designed for Fast Color Change, Precision Dispensing and Ease of Use.
The Spectrum® Powder Feed Center, Nordson's next generation feed center technology, is a complete, closed-loop powder management system that provides a clean operating environment and optimum powder handling conditions, while reducing operator interaction.
Available in configurations for both venturi and dense phase (HD) powder application systems, the Spectrum Powder Feed Center embodies lean process control for a solution that is clean, efficient and precise.
A Closed-Loop System for a Cleaner Environment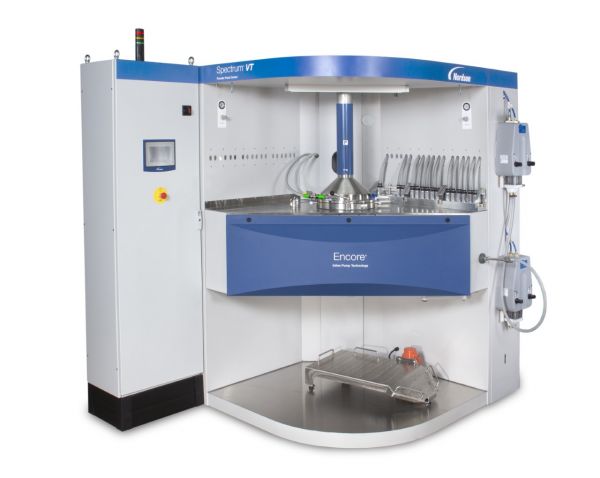 The Spectrum Powder Feed Center is a closed-loop system, assuring powder containment during operation and color change for a cleaner, safer and more productive environment.
The closed-loop system incorporates a variable frequency ultrasonic sieve, fitted as standard, to automatically condition powder and eliminate problematic screen blinding.
Other features include:
• A proprietary cylindrical hopper design and centrifugal high-pressure cleaning to efficiently clean the entire area, eliminating corners in which powder could be trapped.
• Three level sensors with visual/audible alarms, optimizing powder levels and the flow rate from each gun.
• Fresh powder is automatically fed in to the system, direct from the box, to support any production run and further reduce operator intervention.
Digital Touchscreen Simplifies Operation
A simple, digital touchscreen interface guides the operator through the color change process, reducing error and skill dependency.
Tool-free operation provides a simple and intuitive process for every operator on every shift.
All powder management and system controls are consolidated in one place, reducing factory footprint and enhancing operator ergonomics.
Available with Two Pump Technologies for Added Application Versatility
Spectrum Feed Centers are available in configurations that utilize two different pump technologies:
1.  the Spectrum VT Feed Center is designed for venturi-based systems;
2.  the Spectrum HD Feed Center supports dense phase powder coating application systems.
The Spectrum VT Feed Center features an in-line venturi pump design for uniform powder flow.
Its unique pump and purge assembly guarantees complete cleaning of the entire powder circuit.
High-performance cleaning of the pumps, guns and delivery hose speeds color change and improves coating repeatability.
The Spectrum VT can accommodate up to 36 venturi pumps.
The Spectrum HD Feed Center integrates Nordson's premium HDLV® dense phase pumps for precision dispensing, sophisticated color change control and the lowest cost per painted part.
HDLV pumps provide advanced features, including:
Patented dual chamber design for consistent powder flow rate over time.
• Linear and proportional powder output on demand, while consuming less air, passing along savings in energy consumption.
• Maintenance-free operation up to 2,000 hours for true lean process control.
• Enhanced pump performance and cleaning consistency for high quality application and contamination free color change.
For more information on the Spectrum HD Feed Center, visit www.nordson.com/spectrum-hd
For information on the Spectrum VT Feed Center, visit www.nordson.com/spectrum-vt
or call Nordson at 800.433.9319.