PCI's POWDER COATING 2019 Technical Conference & Tabletop Exhibition at the Renaissance Orlando at SeaWorld® in Orlando, FL from April 1-4 is the place to learn about the latest innovations and explore all things powder coating.
You're definitely going to want to be there!!
Click HERE to VIEW THE FULL PROGRAM 
HOTEL
PCI has secured a discounted group rate of $199/night + tax & resort fee at the Renaissance Orlando at SeaWorld®. We expect our hotel block to fill quickly so please do not hesitate to book your hotel reservation today.
CLICK HERE to make your reservations now! Cutoff date for the discounted rate is March 8, 2019, or until rooms are sold out.
---
The technical program is set, and this four-day event offers the perfect combination of training, keynote presentations, roundtable discussion, expert panels, and social activities for everyone in the powder coating industry. PCI's Executive Director, Trena Benson, comments, "The week will be filled with outstanding educational and networking opportunities geared to improving operations. Now is the time to make plans to join us at the single best opportunity each year to meet and interact with leading professionals in the powder coating industry."
The four-day, three separate Events, event officially begins Monday afternoon, April 1, with the popular Powder Coating 101: Basic Essentials Workshop and PCI's Custom Coater Forum.
The Powder Coating Technical Conference and Exhibition will follow on Wednesday and Thursday, April 3 & 4.
A tabletop display area will feature powder coating manufacturers, powder coating application equipment companies, systems houses, chemical suppliers and various services that support the powder coating industry.
Check the website regularly for a current list of exhibitors at conference.powdercoating.org/exhibitors.html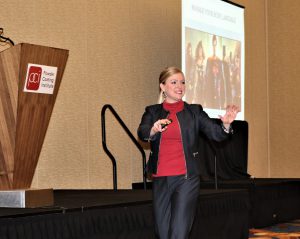 On Wednesday, April 3, the technical conference program opens with a lively presentation from Dr. Amber Selking, Lippert Component Inc.'s Director of People Performance. After exceptional evaluations and attendee comments in 2018, PCI is thrilled to have Dr. Selking deliver another inspiring presentation entitled, From Surviving to Thriving: Changing Your Corporate Culture" which addresses finding and keeping skilled staff. When her company's workforce attrition exceeded 100%, efforts were made to completely change the company's corporate culture. Their efforts led to an 85% reduction in employee attrition and a company that people now want to join. Learn how they did it in this opening keynote session. While their methods are innovative, they are also easy to implement. This session promises to get you thinking and excited about your own operations.
Day two, April 4, of the technical conference features Al Bohlen, president of Mazak Optonics Corporation. Mr. Bohlen will present Adhesion Advancements in Laser Cutting That Improve Powder Coating Performance. Lowering costs and becoming more efficient is critical to every powder coating operation and sometimes those savings and efficiencies come from sources you may not even consider. Mr. Bohlen will discuss the ongoing advancements of laser cutting techniques specifically designed for paint adhesion improvement. As the fabrication industry has embraced powder coating, the challenges of removing oxidation and the methods utilized have been wide ranging. In this discussion, Mr. Bohlen will detail how new methods of laser cutting may eliminate the requirement of some secondary operations when powder coating, such as the use of abrasives, or aggressive wash stages, while lowering overall costs per part.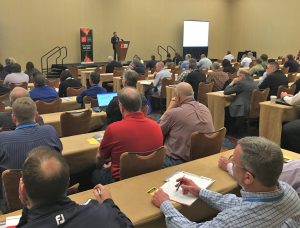 Following the keynote presentations attendees can choose from a wide range of concurrent breakout sessions as well as attend the Tabletop Exhibition and Reception on Wednesday evening.
Session topics and speakers are listed below. To view session descriptions and complete details visit conference.powdercoating.org.
Attendees can select from a variety of registration options for the three separate events in Orlando. While each event has a separate registration fee, there are discounted rates for those attending the Technical Conference with either the Powder Coating 101 Workshop or Custom Coater Forum.
Note: The Powder Coating 101 Workshop and Custom Coater Forum registration fees alone do not include admission to the Technical Conference or Exhibition.
SCHEDULE OF EVENTS
MONDAY April 1:   Powder Coating 101 Workshop and Custom Coater Forum
10:00 AM Registration Opens
1:00 – 5:00 PM Powder Coating 101: Basic Essentials Workshop
1:00 – 5:00 PM PCI Custom Coater Forum
5:00 – 6:00 PM Reception for Workshop & Forum Attendees
TUESDAY Aprial 2:   Powder Coating 101 Workshop and Custom Coater Forum
7:30 AM Registration Opens
8:00 – 8:30 AM Breakfast for Workshop & Forum Attendees
8:30 AM – 4:30 PM Powder Coating 101: Basic Essentials Workshop
8:30 AM – 4:30 PM PCI Custom Coater Forum
Noon – 1:00 PM Lunch for Workshop & Forum Attendees
4:30 PM Workshop & Forum Conclude
WEDNESDAY April 3:   POWDER COATING 2019 Technical Conference and Exhibition
7:00 AM Registration Opens
8:00 – 8:30 AM Continental Breakfast
8:30 – 9:45 AM Opening General Session
10:00 – 11:30 AM Breakout Sessions
11:30 AM – 1:30 PM Lunch and Tabletop Exhibition Open
1:45 – 3:15 PM Breakout Sessions
3:15 – 6:30 PM Tabletop Exhibits Open
4:00 – 6:30 PM Reception and Tabletop Exhibition Open
THURSDAY April 4:  POWDER COATING 2019 Technical Conference and Exhibition
7:30 AM Registration Opens
8:00 – 8:30 AM Continental Breakfast
8:30 – 9:45 AM General Session
10:00 – 11:30 AM Breakout Sessions
11:30 AM – 1:30 PM Lunch and Tabletop Exhibition Open
1:30 – 3:00 PM Breakout Sessions
3:00 – 4:00 PM Closing General Session
4:00 PM Powder Coating 2019 Technical Conference Concludes
TABLETOP EXHIBITORS
(as of December 5, 2018)
ACT Test Panels, LLC
AkzoNobel Powder Coatings
Axalta Coating Systems
BCI Surface Technologies
BYK-Gardner USA
Caplugs/Shercon
CFCM
BASF / Chemetall
Chemical Coaters Association International
DeFelsko Corporation
Digilube Systems
Dinamec Systems, LLC
DuBois Chemicals
Elcometer, Inc.
EPSI Masking Solutions
Erichsen, Inc.
FAMIS, Inc.
Fischer Technology Inc
Fostoria Process Equipment, Div. of TPI Corp.
Gema USA Inc.
George Koch Sons
Global Finishing Solutions
Heraeus Noblelight America LLC
IGP North America
IntelliFinishing
IPCO
Keyland Polymer UV Powder, LLC
Menphis s.p.a.
Midwest Finishing Systems
Nordson Corporation
Parker Ionics
The Powder Coating Institute
Powder Coated Tough
Pretreatment Equipment Manufacturing, Inc. (PEM)
Products Finishing Magazine
Rapid Industries, Inc.
Richards-Wilcox, Inc.
Rohner
RollSeal
The Sherwin-Williams Company
Therma-Tron-X, Inc.
Trimac Industrial Systems, LLC
Wagner Industrial Solutions