D-Zolve™ 917 from Solvent Kleene Inc. is a fast acting, multi-purpose product which dissolves rust as well as removes powder coatings, liquid paint, CARC and other difficult to strip coatings.
Designed for use in an immersion tank, D-Zolve is most efficient at a heated temperature of 125-130°F. D-Zolve's unique properties enable it to penetrate and break the bond between the surface layer and the underlying substrate, causing a coating to peel away or rust to be dissolved.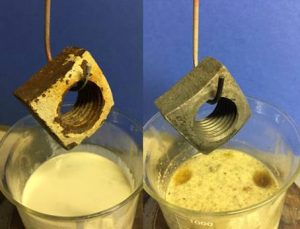 It quickly removes cross linked coatings, epoxy primers, polyurethane top coats, powder coatings and other tough to remove coatings from complex geometries. For objects too large for an immersion tank, a brush-on formulation is available.
Designed to minimize both health and environment risks, D-Zolve is non-flammable, non-toxic and non-carcinogenic. It has a non-offensive, minimal odor, does not contain any ozone depleting components.
D-Zolve can be used on a wide range of ferrous and non-ferrous metals including: aluminum, copper, brass, stainless steel and carbon steel as well as plastic and silicone substrates.
D-Zolve is packaged in 55-gallon drums and in a 5-gallon trial size.
For additional information and a free sample, contact Solvent Kleene
119 Foster Street, Bldg. #6
Peabody, MA 01960
Phone: (978) 531-2279
Fax (978) 532-9304
E-mail: sales@solventkleene.com
Website: www.solventkleene.com.
###