Col-Met Engineered Finishing Systems now offers innovative touch screen controls for their powder collectors, allowing for simple operation of your equipment. These controls include a 7" Maple Systems 800 x 400 color touch screen with remote monitoring capabilities, on screen pressure monitoring, and VFD frequency and amp displays.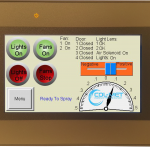 Troubleshooting and system diagnostics are additional key features of our Smart Touch controls.
Col-Met is is a market leader in paint booths, powder booths, ovens, washers, AMUs and  other finishing system components.
As a world leader and industry expert, Col-Met operates from a core set of principles that guide and govern our direction, focus and attitude towards growth and success.
 Respect for People
Ethics in Business
Customer Centered Focus
Cultivate a Culture of Safety
Sustainable Growth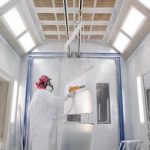 In the Powder Coating Industry, Col-Met is well known for their exceptional line of Batch Powder Booths.  The Col-Met Batch Powder Booths are designed to make efficient use of shop space while still delivering a proven solution for small and manual powder applications.
Their Batch Powder Booths are easy to install and maintain with spray-to-waste design. Air flow is directed from the open front to a filtered exhaust plenum in the rear with a three-stage filtration system that optimized air quality.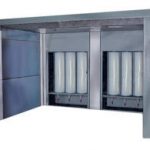 Or, you might prefer the Col-Met Cartridge Batch Powder Booth, perfect for small to mid-sized applications. During operation, powder accumulates on the cartridge filters. A timer activated a system of air purging valves that clear the cartridge filters of accumulated powder to ensure maximum powder life.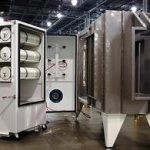 For conveyorized operations, Colmet offers the Pass-Through Powder Booth. The EZ Pass Through Powder Booths provide access for coating from both sides using manual equipment, automatic spray equipment, or both. The conveyor slot at the top allows the conveyor to be installed above the booth so racked parts to pass through for spraying. The booth features a collector module that can be easily rolled away for color change and has additional modules for multiple color spraying.