Industrial

 Conveyor Systems
Conveyorized Powder Coating Systems
Automated Finishing Systems
Robotics

Conveyor systems automate any finishing operation and seamlessly link a variety of processes. Conveyors can significantly reduce the amount of labor needed to move parts around a plant. Conveyor systems come is an array of designs, depending on the application:  I-beam, Enclosed track, Overhead power and free, Inverted power and free, Chain on edge, Power and gravity roller, Flat belt, Knife edge, Walking beam, Multi-strand, or custom designed. Powder coaters and finishers will do best to meet with a reputable company who specializes in conveyor design to determine the best design for your needs. Download this free CONVEYORS DESIGN GUIDE from Motion Control Tips.
Syntec Systems Corp.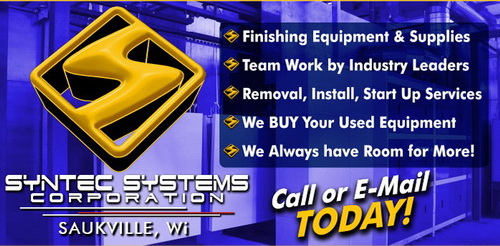 Finishing Systems, Servicing Components, Spare Parts, and more from a Veteran Owned & Operated Company
"Reliability, Accountability and Savings with Syntec"
Bradley Collins: 608-630-3424
bradley@syntecfinishing.com
Powder Coating Conveyor Systems | Automated Finishing Systems | Robotics | Conveyor Lubrication
ARTomation
Automated material handling systems systems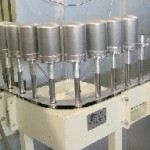 6909 Engle Road, Ste. #7
Cleveland, OH 44130
Phone: (440) 759-4706
Caldan Conveyor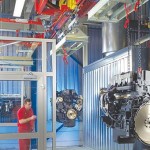 Worldwide leading supplier of overhead and floor conveyors with multiple locations worldwide
Home office: Denmark
Roeddikvej 91, DK-8464 Galten
Phone: +45 8694 7071
Fax: +45 8694 7026
Cincinnati Industrial Machinery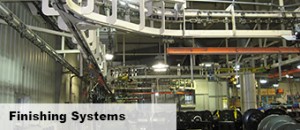 Powder coating conveyor systems
4600 N Mason-Montgomery Road
Mason, OH 45040
Toll free: 800-677-0076
Phone: (513) 923-5601

Castrol
Powder coating conveyor lubrication
Toll Free: 800-582-3266
Central TN Conveyor Supply
Overhead Conveyor Systems and Components We have both NEW and RECONDITIONED conveyors and components available.  Enclosed Track conveyor systems by manufacturers such as Webb, Rapid, Richards Wilcox . Quality products at competitive prices.
Frankl;in, TN 37064
Phone: (615) 533-2882
Conforming Matrix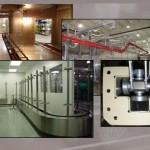 overhead conveyors, power free, monorail systems
6255 Suder Avenue
Toledo, OH 43611
Phone: (419) 729-3777
Combustion & Systems, Inc.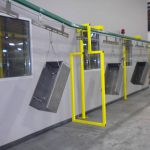 Industry leader in custom design, manufacturing  and installation of  conveyor systems.  Call us before you buy used!
116 North Walnut Street
Rising Sun, IN 47040
Phone:  (812) 308-1046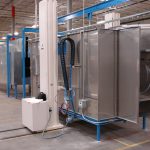 Deimco Finishing Equipment
Founded in 1983, we are a US manufacturer that has provided American-made custom finishing equipment to the industry for 35+ years. From wood finishing machines, powder coating systems, to industrial sanders and industrial ovens, we believe our finishing systems are the best on the market.
1004 E. 5th Street
Tama, IA 52339
Phone: (641) 484-8806
Digilube Systems, Inc.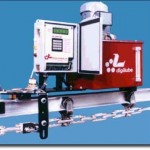 Manufacturer of automatic conveyor lubrication equipment, lubricator chain systems, conveyor cleaners, lubricants, conveyor lubricators
Springboro, OH 45066
Phone: (937) 748-2209
Toll free: 800-837-5667
Engineered Finishing Systems

An industry leader in the design and manufacture of custom Power & Free Conveyor Systems that fit your specific finishing needs. We custom design, configure and install conveyors for your plant's application and line layout.  
390 East Congress Parkway, Suite J
Crystal Lake, IL 60014
Phone: (815) 893-6090
General Fabrications Corp.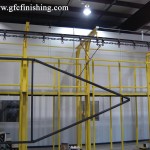 Enclosed track conveyor, I-beam conveyors, power and free conveyors, overhead and inverted, slat, belt, roller & transfer conveyors
7777 Milan Road
Sandusky, OH 44870
Phone: (419) 625-6055
GAT-General Automatic Transfer Co.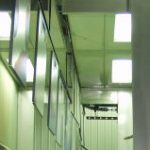 We offer a wide variety of automated material handling systems to satisfy your specific needs: overhead monorail & power-free, mesh belt, chain/crossbar, wicket type, drum type
100 Larkin Williams Ind. Ct.
St. Louis, MO 63026
Phone: (636) 343-6370
Herr Industrial, Inc.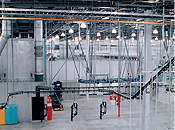 P.O. Box 5249
Lancaster, PA 17606
Toll free: 800-700-HERR
Phone:  (717) 569-6619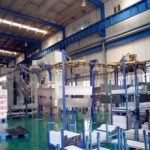 Huzhou Lianzhong Machinery Co.,Ltd
Automated powder coating equipment
125 shimin Road , Anji county
Huzhou, Zhejaing 313200  China
Phone: 00865725025369
Fax:  00865725025369
Imperial Conveyor and Engineering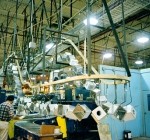 Monorail overhead conveyors, inverted overhead monorail conveyors, enclosed track conveyor system
15124 Downey Avenue
Paramount, CA 90723
Phone: (562) 634-5410
IntelliFinishing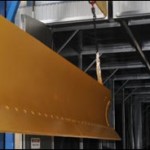 Decrease operating costs with out complete automated finishing systems. Our key differences include the ability to move both forward and backward and our own smart controls technology thus providing endless layout possibilities.
418 East Avenue B
Salina, Kansas 67401
Phone: (785) 309-0356
Jervis B. Webb Company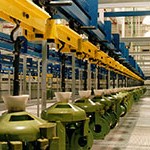 We have a reputation for supplying the most durable and reliable conveyors in the automated material handling industry.
34375 West Twelve Mile Road
Farmington, MI 48331
Phone: 248 553-1000
Lubrication Service & Systems, Inc.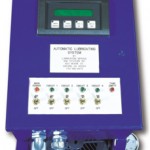 Automatic conveyor lubrication systems, conveyor lubricants, state-of-the-art controls, conveyor cleaning brushes, special cleaning systems, custom design capabilities
620 Moore Street
Oxford, GA 30054
Phone: (770) 786-8473
LVP Conveyor Systems Ltd. UK
Offering a complete range of conveyor belts for light, medium and heavy duty conveyor systems.
Increase your business production capacity using our automated material handling systems for your conveyor
Bedford Road
Rushden, North NN10 0SA, UK
Phone: +44 1536 747740
Microsurface Corporation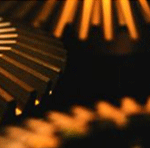 Engineered lubricants, coatings and lapping compounds for automated  powder coating systems.
270 Hillsdale Avenue
San Jose, CA 95136
Phone: (408) 723-0700
NikoTrack


A unique approach to material handling for industrial finishing and powder coating with lightweight, overhead, monorail conveyor systems.
Suite 9B, 200 Highpoint Avenue
Portsmouth, RI  02871
Phone: (401) 683-7525
Pacline Conveyors, Inc.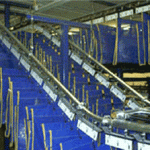 Engineers overhead conveyor systems, including enclosed track overhead conveyors, power and free conveyor systems and I-beam monorail conveyors.
10 Falconer Drive
Mississauga, ON L5N 3L8
Canada
Toll Free: (800) 461-7803
Phone: (905) 858-2330
Pail-Mate, Inc.
Spare parts for automated systems
448-4305 Fairview Street
Burlington, ON L7L 6E8, Canada
Toll free: 800-719-PAIL (7245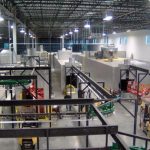 Palmer Mechanical, LLC
Specializing in finishing equipment installation, finishing equipment removal and relocation, industrial oven modifications/repair, overhead monorail conveyor installation/repair.
2896 T.R.7
Brinkhaven, OH 43006
Phone: (330) 231-5415
PNEU-MECH Systems Mfg. LLC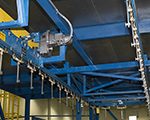 Our conveyors meet precisely with other components in the finishing system. We will match the most efficient and cost effective conveying system to your process using the latest in conveyor technology.
201 Pneu-Mech Drive
Statesville, NC 28625
Phone: (704) 873-2475
Toll free: 800-274-5724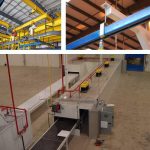 Production Systems, Inc.
An integrator of domestic conveyor systems including: Overhead enclosed track, I-beam, manual, power only, power and free, tow lines, belt and roller conveyors for overhead hang lines, on/in floor tow lines and flat lines.
1500 Trinity Avenue
High Point, NC 27260
Phone: (336) 886-7161
Richards-Wilcox Conveyor Systems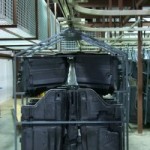 The originator of the overhead enclosed track conveyor. Our conveyor systems have the heaviest gauge track in the industry and our specially designed chain pitch can provide 33% more throughput than other overhead chain conveyor systems in the marketplace. 
600 South Lake Street
Aurora, IL 60506
Toll free: 888-852-1020
Phone: (630) 264-4682
Robotech Automation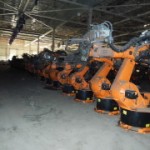 Providing clients a one stop full service Automation-Installation, acquisition-manufacturing solutions service for our clients. System Interrogators- Conveyors Vacuum-Robots-Belt-Magnetic Robots(New and Used) refurbished. Custom Robot welding Cells and Pick and Place Installation and programming. Complete machining and fabrication facility. In house engineering. Custom Prototype Solutions to solve your manufacturing needs.  Plant liquidation and demolition.
Rochester, MI
Phone: (248) 266-0524
Follow us on Twitter: @robotech1960

SSM Industries llc.


We have been custom designing, constructing paint finishing and environmental control products for generations. Our staff takes great care to evaluate your specific needs and requirements.We then provide you with a high quality system at a competitive price. We will work closely with your engineering staff to build to your specifications.
8553 West Chicago
Detroit, MI 48204
Phone: (313) 931-6880
System Technologies, Inc.


Powder coating conveyor systems and robotic paint application systems.
310 N. Mitthoeffer Road
Indianapolis, IN 46235
Phone: (317) 895-5970
Webb-Stiles Company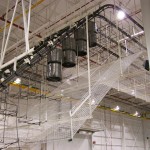 Designer, manufacturer and installer of engineered conveyor systems
675 Liverpool Drive
Valley City, OH 44280
Phone: (330) 225-7761
Fax: (330) 225-5532
 Related Resources
Powder Coating Conveyorized Systems | Automated Systems | Robotics | Conveyor Lubricants