The most basic powder coating system design is the batch system. The batch system is the most common powder coating application system of all, mainly due to its low capital expense in getting started. Many successful, high production job shops have started out this way. They begin with the basics and soon develop a need for increased capacity, faster processing time and more efficient labor. They'll eventually grow to possibly need an automatic system (conveyorized), bigger oven(s), software to help the flow, etc., but let's talk about the batch system.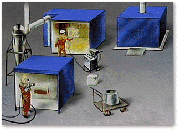 The batch system consists primarily of a pretreatment area, general abrasive blasting, a powder application booth for powder containment or recovery; the application gun, Corona or Tribo methods; and last, a batch oven for curing either gas fired convection or infrared.
For batch coating systems, pretreatment and preparation is the most difficult and labor intensive task. When production rates need to be increased, sacrifices are often made in pretreatment which reduces quality.
Preparation (Pretreatment)
Product selection
Clean air hook-ups
Proper Application Control
Racking and curing.
These are all very important factors to consider in setting up even the most basic of systems.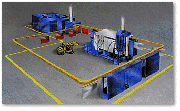 Conveyorized Systems
Before considering the design and implementation of a conveyorized powder coating system, a few questions need to be answered. Proper design begins with preparation and research. Where will the system be built? Location is essential for efficient transportation of products to and from the powder facility.
What is the available floor space? As you begin designing the powder application system, it's important to have a clear understanding of the facilities floor space and the location of each of your utility hook-ups. It can be very costly to find that you placed your pretreatment area on the wrong side of the building, away from sewer and water hook-ups.
What size is the largest part that will move through the application system? Length, width, height and weight are considerations.
What kind of production rates are necessary? Consider short and long term requirements.
What utility capacities are available? Electrical, water, gas and air; and sewer hook-ups.
What permits are required? Building permits for modifications, air quality requirements, fire protection, sanitation or sewer limitations.
These requirements may be different in each location. And, this listing is not meant to be complete. You need to do your homework. Proper research saves time and money.
The conveyorized system is for higher production needs and generally begins with a loading station for the racking of parts onto a properly grounded conveyor and racking system. A variable speed motor to transport parts from one station to the next is essential. The importance of cleaning and proper lubrication of the conveyor cannot be over emphasized.
The conveyor transports the parts into the pretreatment system which generally consists of a three or five stage spray washer, most often iron or zinc phosphate. The washer includes rinse stations that use fresh, recycled and/or deionized or filtered water.
With the phosphate spray washer, your chief concerns are:
The control of time, allowing the various stages to perform their desired functions.
The control of temperature, enhancing cleaning and phosphating.
The control of chemical concentration, the amount of chemical in solution is measured by titration, allowing the cleaning and phosphating baths to be monitored and adjusted.
The control on nozzle pressure, relating to impingement properties and the physical removal of soils and surface contaminates.
Proper line speed and constant monitoring of all control variables will ensure a clean, uniform surface. Also accurate maintenance and record logs are necessary to keep your operation running smoothly and efficiently.
As the parts leave the pretreatment area they are wet from rinsing and must be dried. Forced drying takes place in a separate dry-off oven, or a section of the cure oven. Using the cure oven reduces the system's size and eliminates the need for another burner and controls.
After the parts are pretreated and dried they are generally allowed to cool to, at or near ambient temperature. The parts then enter the powder application booth, complete with collection and/or powder recovery equipment. The powder application booth serves as a containment system for over-sprayed powder. This powder material can be collected for reuse or discarded as scrap, oven. The parts are exposed to heat inside the cure oven for the proper length of time and with the correct atmospheric temperature setting to allow the coating to bond with the substrate according to the powder manufacturer's cure recommendations.
Finally, there needs to be adequate time to allow parts to cool for off-loading and packaging. With careful planning and proper research, the odds will be stacked in your favor in the design of an efficient and profitable powder application system.
Related Resources
Basic Powder Coating System Design