Powder Coating Batch Equipment
Powder Coating Equipment

Powder Coating Equipment Suppliers
Therma-Tron-X, Inc.


Your Best Finish Starts With Us!  Industry leader in the manufacture of custom powder coating systems.
1155 S. Neenah Ave.
Sturgeon Bay, WI 54235
Phone: (920) 743-6568
Fax: (920) 743-5486
Website: www.ttxinc.com



Buy Rite Finishing
Batch Powder Systems to fit almost any configuration or requirement, new & used.
4855 E Alpha Drive
Hasting, NE 68901
Phone: (402) 984-2649
Website: www.buyritefinishing.com

CDT, LLC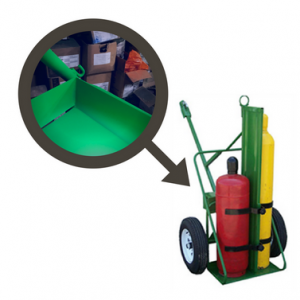 Coating Delivery Technology 


Save on powder coats, get improved coverage, eliminate faraday cage effect, add to your existing system, cover investment in 6 months!
Nashville, TN 37214
Phone:  (615) 450-1952
Learn More
Cincinnati Industrial Machinery
A global leader in designing, engineering and manufacturing solutions for a variety of cleaning and coating applications
600 N. Mason-Montgomery Road
Mason, OH 45040
Toll Free: 800-677-0076
Combustion & Systems, Inc.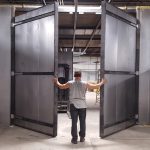 Industry leader in custom design, manufacturing and installation of batch powder coating equipment. 
Call us before you buy used!
116 North Walnut Street
Rising Sun, IN 47040
Phone:  (812) 308-1046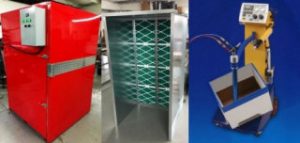 EPTEX Coatings
Start your own profitable Powder Coating Business with one of our Batch Powder Coating Packages. Different sizes available. Training Course included.
5559 El Paso Drive
El Paso, TX 79905
Phone: (915) 313-9333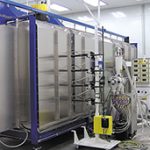 JB Finishing, Inc
Powder coating, paint and HVAC solutions.
100 Brydon Drive, Unit F
Etobicoke, ON M9W 4N9
Canada
Phone: (416) 749-6168
Oenco International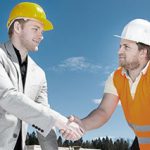 Powder coating equipment in Srilanka: powder booths, manual powder coating guns,  ovens, pretreatment equipment, training programs…everything you need for your powder coating operation
Srilanka
Phone: +9477 7771 989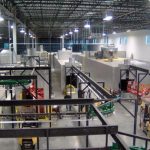 Palmer Mechanical, LLC
Specializing in finishing equipment installation, finishing equipment removal and relocation, industrial oven modifications/repair, overhead monorail conveyor installation/repair.
2896 T.R.7
Brinkhaven, OH 43006
Phone: (330) 231-5415
PowderBuythePound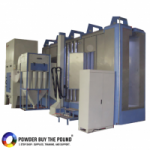 One-Stop Shop: Powder Coating Supplies, Training, Batch Equipment and Support. 
Nolensville, TN 37135
Phone: (615) 776-7600
PRO POWDER AND ABRASIVE SUPPLY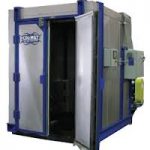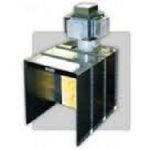 Powder coating batch spray booths and  batch ovens as a Premier Col-Met distributor
5710 Auburn Blvd #24
Sacramento, CA 95841
Phone: (916) 992-0968
Rapid Engineering LLC

Designs and manufactures industrial finishing systems and their individual components, including pre-treatment washers, dry-off ovens, powder application rooms, make-up air units, cure ovens, conveyor systems and cooling tunnels. In addition, we produce a complete line of powder coating batch equipment, including pretreatment stations, washers and ovens.
1100 7 Mile NW
Comstock Park, MI 49321
Toll Free: 800-536-3461
RayPaul of North GA- Powder Coat America
"Your Finishing Advantage" – Custom batch powder coating equipment
105 Silo Lane
Lavonia, GA 30553
Phone: (706) 356-8924
Superior Cleaning & Coating, LLC
Offers a wide variety of cleaning and powder coating equipment.
PO Box 9263
Gray, TN 37615
Phone: (423) 306-9828
Toll free: 877-741-5546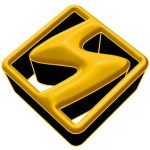 Syntec Systems Corp.
New and used powder coating batch equipment
2725 Hawthorne Drive
Saukville, WI 53080
Phone: (262) 675-6091
Website www.syntecfinishing.com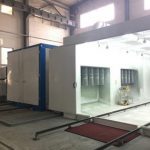 Valu-Line Powder Coating Systems
Value priced batch powder coating equipment for cost conscious powder coaters built by Industrial Coating Equipment.
Englewood, FL. 34224
Phone:  (941) 777-4894
Cell: (440) 477-2991
 Related Resources
Powder coating batch equipment
Powder coating equipment