Are you considering replacing your old software technology but there are too many choices? Hundreds of companies claim to improve shop floor and office personnel efficiencies, provide quality management tools, cut costs and drive value.

Ensure all those marketing promises and presentations are backed up with facts before you invest by using the complimentary Software Evaluation Form (see below). At Bluestreak™,  they believe if they can help educate prospective clients in a thorough software evaluation process, including a functionality & features comparison evaluation, they are confident you'll choose Bluestreak™, the Manufacturing Execution System (MES), and Quality Management System (QMS), designed exclusively for service-based companies like yours.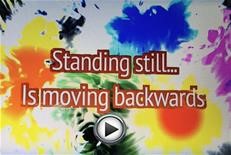 Watch Educational Technology Video

Request for Information (RFI), Software Evaluation Form
To receive this complimentary file, click on the Excel icon, then click "File" and "download as" to save to your computer.
Once downloaded, you can brand this generic Request for Information (RFI) form, by adding your company logo and contact information. Send the RFI to your software prospects to populate the form in order to accurately compare software features & functionality.
Knowing the right questions to ask can mean the difference between 'winging it' and getting the most for your software investment.
If you are looking to upgrade or purchase a new software solution to run your powder coating business, include Bluestreak | Powder Coating Edition™ in your search.
Contact Ron at Bluestreak™  by phone or email to schedule your personalized demonstration.
Ron Beltz
Director of Strategic Accounts
THROUGHPUT | Bluestreak™
Game Changing Solutions | Beyond MES
C: 262.955.5662
O: 888.785.0509 x710
go-bluestreak.com
ron.beltz@go-throughput.com