Every year, approximately 200,000 Americans transition from the military to civilian life. For many, leaving active duty and finding a fulfilling, well-paying career is not always easy.
Workshops for Warriors is changing that.
Since 2008, Workshops for Warriors (WFW) has provided veterans and transitioning service members with training and credentials in finishing, welding and CNC machining, arming them with skills to continue serving our nation as America's newest manufacturing force.Workshops for Warriors works with companies, government entities, and other organizations to provide military veterans with meaningful career paths while addressing America's dire need to rebuild its manufacturing capabilities.
Our partners contribute more than money. Their ideas, volunteer power, in-kind support and more give promising futures to our veterans and our nation.
THERE ARE MANY WAYS YOUR COMPANY CAN SUPPORT WFW. BECOME A PARTNER. EMAIL INFO@WFW.ORG
In the Finishing Industry, Chemical Coaters Association International (CCAI) is working with San Diego-based Workshops for Warriors (WFW.org) to provide an Industrial Finishing Certificate program for Workshop for Warriors students.

The CCAI program will be known as the Finishing for Warriors program.
Workshops for Warriors is a is a state-licensed, board governed, fully audited 501(c)(3) nonprofit school that trains, certifies, and helps veterans, wounded warriors, and transition service members into advanced manufacturing careers. Students earn nationally recognized portable and stackable credentials.
CCAI has contracted with Rich Saddler of Industrial Finishing Solutions to coordinate the development of the Finishing for Warriors curriculum.
Rich has an extensive background in the industrial finishing industry, including finishing related positions with Haworth, Steelcase, Herman Miller, George Koch Sons and Abcor Industries. His educational background and industry experience make Rich the ideal person to coordinate this important project. Rich is well recognized in the industrial finishing industry which will be an asset when seeking assistance in key areas for educational information.
Rich remarks, "I am honored and excited to be part of this program, bringing finishing knowledge to our veterans. This program is not only providing training to the next generation of finishing professionals but provides exciting career opportunities to veterans transitioning from military to civilian life."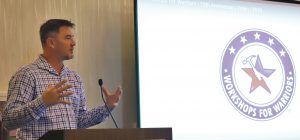 Workshops for Warriors, Executive Director of Development John Jones notes, "CCAI is an important and valued partner. The ability to implement the industrial surface coating curriculum is very important and desired. This partnership will allow Workshop for Warriors to leverage the CCAI's experience in creating a solid curriculum and state-of-the-art training facility. We are so excited to have this partnership and to work with such an outstanding group of people. Workshop for Warriors and CCAI will be leading the future in the chemical coating world for veterans!"
The Finishing for Warriors curriculum will include hands-on training to complement the classroom lessons.
Once veterans complete the course, Workshop for Warriors assists students in finding job placement throughout the United States. "This is exactly the type of education outreach we should be doing as an association," notes CCAI Executive Director, Anne Goyer. "I constantly hear from members about the difficulty in securing skilled employees. Our goal is for our 'Finishing for Warriors' initiative to help members find the skilled workers they need and allow veterans to build a career."
About Workshops for Warriors

Workshops for Warriors is a State-licensed, board governed, fully audited, 501 (c) (3) nonprofit school founded in 2008. The mission of WFW is to provide quality training, accredited STEM educational programs, and opportunities to earn third party nationally recognized credentials to enable veterans, transitioning service members, and other students to be successfully trained and placed in their chosen advanced manufacturing career field.
Read more about the organization at wfw.org.