There's an App for that!  A Powder Coating App, that is: The new Gema E-App [Electrostatic App] can monitor coating costs, collect productivity statistics, and display device and diagnostic data.
Adjust coating parameters in real-time using remote application control. Service support functions allow for planning and scheduling of maintenance work, along with easy access to equipment manuals.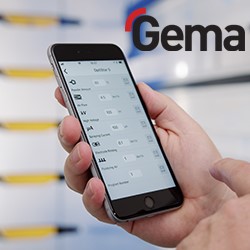 Download the Gema E-App and take control of your coating process.
Have all important application parameters completely under control via your mobile device!
Parameter settings can be directly adjusted with the Electrostatic App and transferred simply and directly to the OptiStar gun control.
The E-App allows you to monitor the coating process. Productivity statistics and cost calculations are automatically generated for each job, whilst upcoming maintenance can be scheduled directly from the App.
Configuration of the OptiStar gun control is adjustable via the App with control individually or as part of a group. System and diagnostic data is directly accessible for forwarding by e-mail.
Long searches for user manuals are a thing of the past! The App offers direct access to the technical documentation of the system components.
Additional information and news are accessible through the link to the Gema Website.
For more information on Gema products call (800) 628-0601 or email powdersales@gema.us.com.