Batch Powder Coating Systems have both good and bad qualities. They are very cost effective to purchase and operate, plus they are very flexible and can process many different types of products, but the thing that makes them attractive to operate can also make them ineffective at times to use.
It is difficult to effectively mass produce powder coated parts with a batch system because of the amount of labor they require, and the material handling aspect is usually the most laborious.
With that said, an Overhead Conveyor System will quite often be a good investment in your Batch Powder Coating Systems. They might not work for everything, but if you can effectively handle 80% or more of your products they're a good investment.
The typical issue with an overhead conveyor in a batch system is that each process is tied to the next; if parts are ready to come out of the Batch Oven, but you aren't done with the next batch in the Powder Booth, you might burn the parts in the oven.
There is another option you might not have considered: a Manual Conveyor System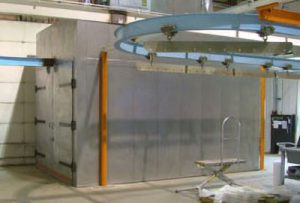 A Manual Conveyor System will allow you to efficiently move parts from process to process, but since the trolleys aren't connected by a common Automatic Conveyor Chain, each process can be moved separate from one another.
The other advantage to a Manual Conveyor System is that you can use Conveyor Switches and Conveyor Turntables, so you can change directions with your parts, or you can run Multiple Conveyor Tracks into your oven for more efficient curing.
To learn more about the Manual Conveyor Powder System, contact Buy Rite Finishing at 888-647-9929 or via sales@buyritefinishing.com to discuss if this system is right for you.

About Buy Rite Finishing
Buy Rite Finishing is a three generation family-owned business supplying and installing Powder Coating Application Equipment, Replacement Parts and Used Powder Coating Equipment.
With more than 75 combined years of experience with Powder Coating Systems they have been involved in all stages of the process, from the original design into operation, and know what works well and what will end up wasting your time and money.
"we are small enough to care and large enough to handle any size job for your company!"