Mighty Hook designs and manufactures reliable and economical hanging solutions for the industrial coating industry to improve line density and coating line efficiency.
Their mission is to provide their customers with high-quality, innovative and cost-effective products that will improve their hanging productivity.
Mighty Hook specializes in material handling systems for everything below the conveyor.
Have a common problem? They have a unique solution.
For example, read about the innovative, patented Angle Pivot System.
The creative solutions Mighty Hook has developed has earned them 3 U.S. patents, with 3 more pending patents. Experience makes a mighty difference!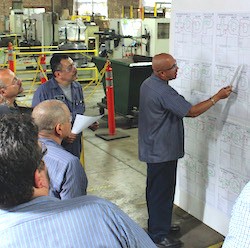 Their Lean Manufacturing team works tirelessly to engineer the highest quality products on time and on budget. They maximize part throughput, increase quality, ensure safety, and engineer ergonomic designs.
For years, Mighty Hook has been an innovator in the design and construction of coating racks and hooks. They have gained experience and knowledge the hard way, by spending countless hours on our own powder coating line to achieve maximum line density and coating efficiency.
This gives Mighty Hook  the edge in the industry, and the engineering expertise to meet your shop's needs.
Mighty Hook offers 150 product categories and maintain an inventory of over 15,000,000 total products.
You can even SHOP ONLINE for your hanging, racking and masking products.

For more information on Mighty Hook products, visit the website or  call (773) 378-1909 .