The future in powder collectors is here now from JB Finishing, Canada. The JBF PC8000 Filter Cartridge Powder Booth Collector offers efficiencies not available in other collectors from other suppliers: 98% efficiency for .05 micron particles.
The PC8000 Powder Booth Collector cartridge filters are designed to be above floor level to eliminate operator from pushing reclaim powder into cartridge filter. This extends the life of the cartridge and prevents clogging.
 Filters collect airborne powder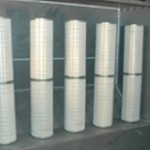  Powder is more confined in space due to its design
 Filters are easy to install and remove. Installed in 2 vertical rows
 Four HEPA final filters prevent fine powder particles from entering the work area
 Low decibel emission
Click on the image here to see a short VIDEO of the JBF Powder Collector
 FEATURES AND BENEFITS of the PC8000 Powder Booth Collector
 72" deep x 8' wide x 73" high
 Front face complete with pre-punched holes to accept spray booth panels
 Adjustable sequential timer and delay with ten automatic pulse filters
 High efficiency filters reduce maintenance costs and maximize performance
Download the JBF Powder Booth Collector Brochure for complete information (pdf)
Now is the time to buy Canadian; the exchange rate of the Canadian dollar is very favorable for USA customers.
This Powder Collector is available for only $13,000.00 US plus shipping. Assembled, ready to install.
 To order or for more info, email jim@biscoefinishing.com