Is there a brick wall between your business and quality management?
Bluestreak's™ Quality Management System is a fully integrated and compliant software solution for service-based companies who need a complete quality management and execution tool set that connects quality systems to production.
More Accountability and Auditability
Featuring – Document Control, Centralized Data Collection and Complete Audit Trail
Designed for the demanding quality requirements of NADCAP, ISO, API, AS, TS, ABS ITAR/EAR and more.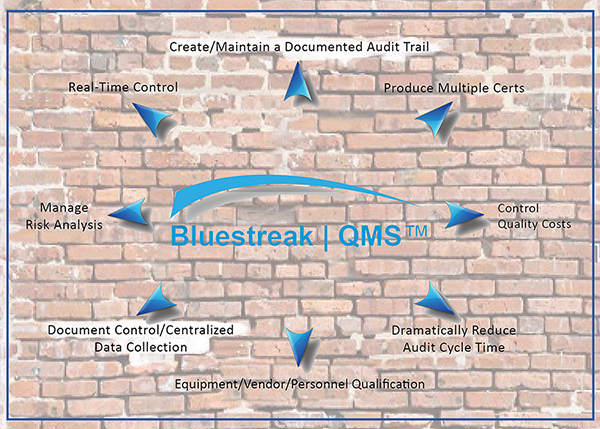 Document control is essential in the success of any company's Quality Management System.
Quality documentation like CAPAs, Certs, non-conformance reports, the quality manual itself, and others are managed within Bluestreak's™ document control repository that provides version tracking, approvals, notifications, policy administration, and more.
Key Features
* Collect quality data in real-time, anytime and anywhere via iPad or iPhone
* Specify standard or advanced data collection requirements
* Connect 'front office' quality/operational data directly to the shop floor in real-time
* View and track complete revision history; what changed and who made changes
* Ensure that the most recent revision of your quality manual, operating policies and procedures are easily viewable right from the shop  floor.
Working Toward Going Paperless?
Store data in Bluestreak's™ centralized repository versus file folders and boxes. When data is uniformly formatted and accessible on Bluestreak's™ centralized system, the business intelligence gained is incredibly valuable.
Contact  them today by phone or email to schedule your personalized demonstration about all Bluestreak™ solutions for your business.
Ron Beltz, Director of Strategic Accounts
THROUGHPUT | Bluestreak™
Game Changing Solutions | Beyond MES
C: 262.955.5662
O: 888.785.0509 x710
Email: ron.beltz@go-throughput.com
Website: go-bluestreak.com