Gema brings high performance to manual powder coating with the OptiFlex® Pro Series of manual spray units. OptiFlex Pro provides the highest charging power in the industry at 110,000 V / 110 µA by using our PowerBoost technology, allowing for a faster and more efficient powder coating process.
Achieve greater productivity by optimizing your coating process, increasing total powder coverage, and achieving quicker best-in-class finishes. Comprehensive, real-time management of your powder application can be accomplished from the palm of your hand through the total connectivity offered by our exclusive Gema E-App.
The OptiFlex Pro is available in a variety of different models, offering the versatility to satisfy a wide range of powder application requirements. Standard features integrated in each unit include: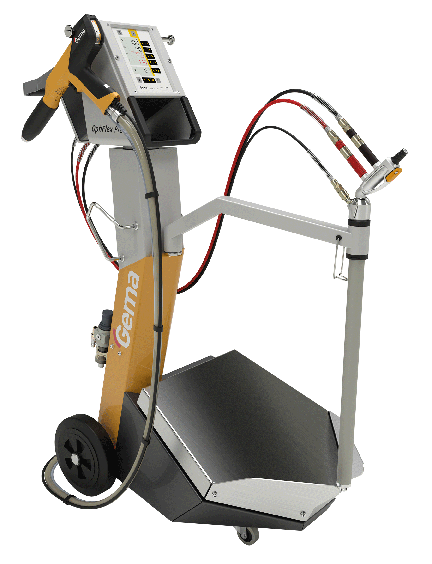 • Our lightweight, ergonomically-designed OptiSelect® Pro spray gun with on-gun remote control
• PowerBoost technology offering the highest powder charging capacity available at 110,000 V / 110 µA
• Intuitive OptiStar® 4.0 control interface to manage your application parameters
• Exclusive Gema E-App for real-time productivity information and analysis through connectivity
• OptiFlow injector or OptiSpray application pump for optimized and precise powder delivery control
• Assortment of nozzles offering a range of spray patterns and characteristics
For more information about how OptiFlex Pro can enhance the performance of your powder coating operations, or to schedule an onsite equipment demonstration, please contact Gema by calling 877.437.6771 or by visiting www.optiflexpro.com.
ABOUT GEMA
Gema, a Graco Inc. company, is the global leader in powder coating technology. From manual units to fully automated systems, Gema offers solutions to satisfy customers in a wide variety of end markets. Gema has worldwide headquarters in St. Gallen, Switzerland and a broad worldwide distribution network. Gema operates its North American Headquarters from Indianapolis, Indiana. For additional information call (800) 628-0601 or visit www.gemapowdercoating.com

.