Do you, like many other powder coaters, have issues when packaging and protecting your finished products with cardboard, bubble wrap or thin foam sheets?
Frank Lowe's WOW Pads, separator shipping pads for finished products are the ideal way to protect, separate, and transport fragile and/or powder coated, painted or raw metal components.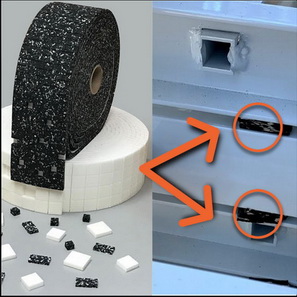 Say goodbye to cardboard, bubble wrap or thin foam sheets that can cause scratches, dents and other defects during transit. WOW Pads are engineered with a removable adhesive on one side that leaves no residue, just like a post-it note! Simply peel and stick!
With these unique shipping pads, you can rest assured your product will arrive to its destination in the same shape it left your facility.
WOW pads can be used to protect any finished product, including anything from powder coated fencing to painted aluminum shutters to raw steel window frames — really, ANY finished product that needs to be separated during packing, storage, shipping or installation stages.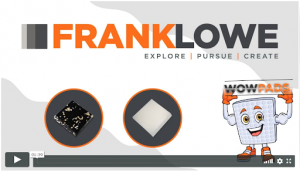 These pads work to reduce slippage and vibration whenever the products are moved.  You can protect your finished products from shifting, rattling and impacts that can causing scratching, dents, chipping or other types of damage.
Click on the image to the left to watch a short, minute and a half video to learn more
Neo-Rebond or Polyfoam adhesive backed WOW Pads have many advantages, including:
Easy and cost-effective way to protect painted metal, powder coated metal and raw metal products
Die cut on sheets or rolls for quick application
Feature an adhesive backing to simply peel and stick!
Available in many sizes including 1/8″, 1/4", 3/8" and 1/2" thickness from 3/4" x 3/4" squares and larger
Great for all types of finished products, including those with powder coated, painted or raw metal finishes
Leaves no adhesive or residue
Not affected by rain or snow
Non-abrasive unlike cardboard
Fast turnaround times – usually ship in less than a week
Neo-Rebond is recycled material & made in the USA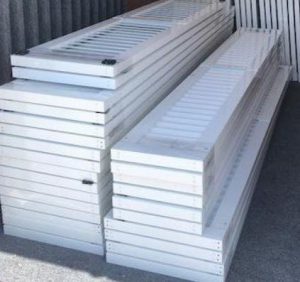 Because there are no one-size-fits-all solutions, Frank Lowe can die cut our WOW Pads in the most beneficial shape for your product and needs. You can choose between having your pads cut on a sheet or a roll, which can make application as simple as possible
"While the shipping pads are small and seemingly tiny, they are extremely helpful and pack a huge value. Simply put, our pallets don't shift, don't move, and are much more secure," Says Ellen Reinig, General Manager at JAS Powder Coating.
"Even though we only order WOW Pads from Frank Lowe twice a year, we always feel like we are one of their most valued clients. Instead of having to deal with a new person every time, we are designated a single point of contact," Says Melanie Heinemann, Owner of Mario's Metalcraft.
WOW Pads are available in a variety of densities, thicknesses and sizes.
___________________________
Contact us today for your free samples.



Phone: (800) 777-0202
Website: franklowe.com/wow-pads
Contact page: www.franklowe.com/contact/