Very briefly defined, the TTX ACC® is a flexible, automated, cutting edge material handling system.
The ACC® from Therma-Tron-X uses wireless, independently programmed vehicles that run along I-beams to transport parts. The autonomous carriers create a flexible, easily scalable transportation network.
While overhead transport systems are common in the finishing industry, most continuous systems lack flexibility, as any adjustment to the speed of the line will change it for every part.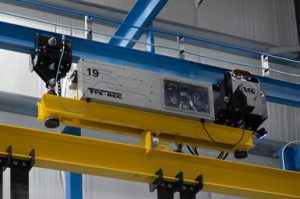 This system from TTX addresses these problems by providing a modular solution. This is a game-changer!
While a chain conveyor and other continuous systems move every part they carry at the same time, the Automated Conveyor Carrier system (ACC®) consists of automated carrier vehicles that move independently along I-beams. This simplifies transport systems while simultaneously improving the facility's ability to adjust the line on the fly.  Think of the time this will save your company!
Independent Conveyor Vehicles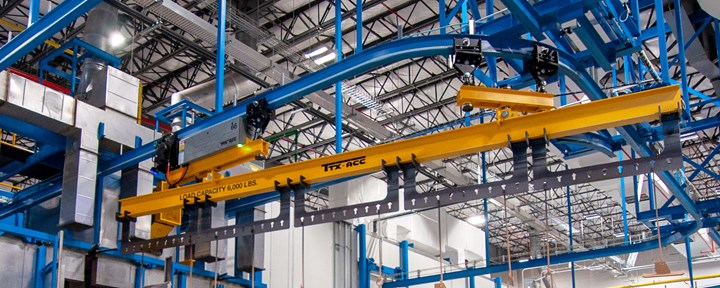 As a modular system, the facility can dedicate different vehicles to different tasks, enabling it to use a single conveyance system for just about every part in its line.
Because "The ACC® is designed with flexibility in mind," according to TTX Vice President of Sales Chad Andreae, "it enables users to have a modular, scalable conveyance system that makes it easy to adapt production volumes for all scenarios."
Essentially, this system enables a facility to efficiently move a variety of different parts through different processes without having to dedicate an entire line to each one.


Watch the TTX ACC® video
Finishers can use a different vehicle for each individual part with the ability to wirelessly send different instructions to each vehicle! 
Each vehicle is mounted onto the I-beam like a traditional carrier using a spring-loaded traction wheel to propel it along the beam and using battery power to avoid cables. Instructions are sent to each individual unit through a wireless ethernet system.
Because each vehicle moves on its own, the facility can dedicate different vehicles to different parts and different tasks, enabling it to use a single conveyance system for just about every part in its line.
"If a customer has some very heavy parts and some very light parts, they can all be accommodated," Andreae says. "Do some parts have longer process times or perhaps need to skip a process? No problem."
Talk about flexibility!  
Additionally, each ACC® vehicle can accelerate and decelerate independently of the others. This enables you to adjust process times on the fly, and it is simple to divert a carrier to a different destination. On top of that, decelerating at corners can even eliminate part swing.
Designed with safety in mind: "The vehicles are substantially quieter than traditional conveyors," Andreae says. "Each unit is equipped with audible alerts, signal lights and a collision avoidance system, allowing for easy situational awareness of each unit."
Unlike traditional chain conveyor, the torque available to drive the carrier along the I-beam is only enough to drive the individual, not the entire system. This makes it easier to avoid collision risks.
Economical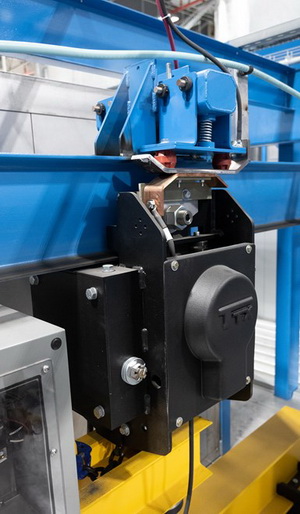 The ACC® requires minimal infrastructure, which leads to smaller start-up costs and less maintenance. "There is no chain or maintenance of the chain as in traditional overhead systems," Andreae says. "Furthermore, each conveyor is powered by batteries, so a complex wired power infrastructure is not needed.
"This means that once the I-beams are installed, the only thing you need to do to increase capacity is purchase additional ACC® units. You can scale up as needed with minimal disruption to your operations," Andreae says.
The ACC® system is also quite economical to run and maintain. "Energy is saved throughout the heat-processing sections of the system, as the mass flow in the ovens is greatly reduced in comparison to traditional monorail and Power and Free systems," says Andreae . This is because the ACC® vehicles travel above the ovens, pretreatment and paint processes while hooks or racks pass through a unique patented slot top design that minimizes heat loss.
Article source Products Finishing Magazine
920-743-6568
Fax: 920-743-5486