Used Powder Coating Equipment

 
Shopping reconditioned, refurbished and used powder coating equipment is a great way to get good quality equipment and spend a fraction of what the new item(s) would cost you. Be sure to check the Classifieds" List of Used Powder Coating Equipment For Sale or Trade at the bottom of the page.
Used Powder Coating Equipment
Access Used Furnaces
We refurbish, buy, sell and broker a variety of industrial furnaces, ovens, and kilns and used industrial finishing systems.
62 High Street
Carroll, OH 43112
Phone/Fax: (740) 756-7676
CoatSmart USA
23215 Highway 113
Wilmington, IL 60481
Phone: (779) 279-2407
EQUIPNET
The world's leading provider of used equipment and instrumentation, proactive asset management services and solutions for large and small corporations, and equipment and machinery appraisal services.
5 Dan Road'
Canton, MA 02021
Toll free: 888-371-6555
Phone: (781) 821-3482
Fax: (617) 671-1269
Handy Engineering, LLC
Quality Used Powder Coating Equipment
1969 Seymore Drive
Acworth, GA 30101
Phone: (770) 422-0028
Harris – Baum, Inc.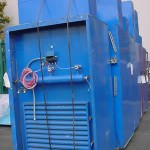 wide range of high quality used powder coating equipment
3211 E. Eloika Lake Rd
Deer Park, WA 99006
Toll free: 866-227-8262
KoteQuip


Large inventory of used powder coating equipment
1721 Gateway Ct.
Elkhart, IN 46514
Phone: (574) 266-4434
Fax: (574) 262-5296
Palmer Mechanical LLC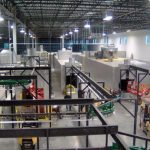 Specializing in finishing equipment installation, finishing equipment removal and relocation, industrial oven modifications/repair, overhead monorail conveyor installation/repair.
2896 T.R.7
Brinkhaven, OH 43006
Phone: (330) 231-5415


Powder Booth Restoration Co.
REPLACEMENT PARTS, PROFESSIONAL REPAIRS, AND FILTERS
plus Used Equipment Sales, Reconditioned Powder Coating Equipment
2824 Bartells Drive
Beloit WI 53511
Phone: (608) 362-2200
Fax: (608) 362-2202
Website: www.powderboothparts.com
Surplus Coatings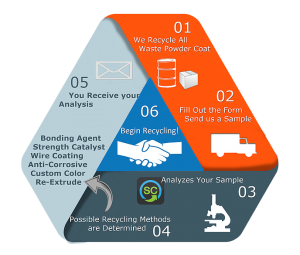 We are on the front lines of recycling powder coatings, helping manufacturing facilities become landfill-free. From the large manufacturing facility to the hobby shop down the road, our goal is to show that "Every Pound Matters"!
2825 17 Mile Rd Suite C
Kent City, MI 49330
Phone: (616) 952.0032
More Used Powder Coating Equipment for sale
8/7/18  FOR SALE:  Custom Built 6 Stage Powder Coat Paint Line.
Installed 2010.
46″ x 60″ part size, 60′ Stainless/ 2 Lane /6 stage system with 7.5hp. pumps. Single pass drying oven, 2 Enclosed, 2 chamber JBI paint booths w/ ventilation and dust collectors, Mahan gas fired curing oven, 40′ / 3 pass tunnel. 20 hp. Circulation Fan, 450′ automated monorail, Process control panels etc.  Contact Rob Shores 864-787-1524 or robsos604@gmail.com
8/6/18  FOR SALE:  Two complete "Chain on Edge" Painting systems, Powder or Paint. Systems can do 30 feet/M. Pods on 4″ centers. Price Loaded $400K. For more information contact Fred Owens 702-666-1114 or dti2@cox.net
8/1/18  FOR SALE:  Used Burn Off Oven – 
natural gas, 16'W x 10'H x 16'L, 1000 – 1400 deg.  

Syntec Systems
7/25/18  FOR SALE:  Powder coat oven and spraying gun system for sale.
The oven is roughly 12ft L x 6ft W x 4ft H. It connects to conventional 3 prong 240V dryer plugs (2 required). The oven has 4 sides and a top but NO bottom and NO doors. It was originally designed to be handled with a forklift. The components to be coated were set up on the shop floor then the oven was set over them with the forklift. Knowing that many potential buyers may not have access to a forklift, the oven was reconfigured to include a mechanical device to lift one end of the oven to provide access for component set-up and removal. The lifting system is powered by a 12 volt battery (included) and controlled by a wireless remote control. Spraying gun system is a SpectraCoat ES03 for industrial use. System and oven work great. Asking $5000 for the package. Can email photos or video upon request.
Contact Craig 337-532-0733 or craiggriffith77@gmail.com
7/23/18  FOR SALE:  Used 3-Station 480V Alloy Steel POWDER COATING Wash Line.
50′ long x 7.5′ W x 9.75′ H w/  Maxon 400 Ovenpak natural gas burner on 31″ 1st stage cleaning section, a 15′ long 2nd stage rinse section,  a 14′ 3rd stage 2nd rinse or coating section. The cleaning section is fitted with a 20 HP pump motor with Carver pump and the 2nd and 3rd rinse and coating stages have 10HP pump motors with Carver Pumps. All 3 sections are in good condition with everything operational and all sections have a 42″ W x 64″ H pass thru area. The listed unit has all nozzles and plastic pipe as required to be operable.
Contsct Vince  330-207-9535 or Email vcian@netscape.com
7/9/18  FOR SALE:  Used 5-stage Powder Coating System 
96′ long all SS 5-stage washer,
24″ x 90″ part opening.

KoteQuip
7/9/18  FOR SALE:  Cyclo-Kinetic Automatic Powder Booth.  
16 Automatic Versa Spray II Guns and Controllers.
Opening is 5'W x 6'H.  

Syntec Systems  
7/9/18  FOR SALE:  Used Cross Draft Drive Through Paint Booth –
21'-1/4"W x 18'-6"H x 44'-4"L
Syntec Systems 
7/5/18  FOR SALE:  Used Nordson Powder Booth. 
5′ W x 20′ L. 
Two reclaim modules included (uses 16 filters).  Control panel for fan (we will build a custom canopy for an add'l cost of $1,500.00 -$2,000.00.).  Access platform, some miscellaneous hoppers, two gun movers. Guns and controls not included. Buyer responsible for shipping and shipping costs. Great condition. 
 Cost: $12,000.00 AS IS.  Call Bev for pictures & more information: 812-308-1046  
Combustion & Systems
7/3/18  FOR SALE: 

REDUCED PRICE!

  Used Burn Off Oven,
84″w x 89″h x 142″d inside, with cart, currently still in operation
.
Asking only $11,500.00.
Contact Richard  for details rludvik@indcoating.com or 440-477-2991   
Industrial Coating Equipment
6/28/18  FOR SALE:  Used 3-stage powder coating system  – Contact: Larry Savage larrysavage39@gmail.com 574-266-4434  
KoteQuip
6/7/18  FOR SALE: Blue Surf 4-Stage Powder Coating System.  
Part Opening: 2'-6" W x 4'-6" H,  
4 FPM (Variable, 1-6 FPM), 
Available immediately.
  Contact Nick  @ 920-361-5208 x 2 or nick@amerianindustrialsystems.com –  
American Industrial Systems
5/15/18  FOR SALE:  3 stage steel wash, enclosed conveyor, single pass dry off and bake oven. Complete line 3 feet per min. Manual paint booth with dust collection. Removed and ready to load out. Asking 65000.00 USD.  Contact Scott, BC Canada:  604-613-4226 or fvboss41@yahoo.com
4/24/18  FOR SALE:  4 Nordson 85# fluidizing hoppers.
Three complete, one missing the fluidizer plate. Rollers are missing wheels.
Contact Jon jinman438@gmail.com or 641-436-0975
4/6/18  FOR SALE:  Nordson CK Automatic Booth (Reclaim).  
30" x 66"H Opening,  Sure Coat 8 Automatic Gun System, 2 Manual Versa Spray II Guns and Controllers and Hoppers.  

Syntec Systems 
4/6/18  FOR SALE: Burn Off Oven For Sale.  8'6"H x 7'W x 11'6"L  

Syntec Systems  
3/16/18  FOR SALE:  39 tons NEW Powder Coating
(expired, perfect for use).  Location: Los Angeles, CA: 
 1.   AkzoNobel Powder Coatings – EL014Q INTERPON 700 Gray,
QTY: 72 Boxes with 25kg = 1.800kg.
  2.  PPG Global – 
Part # 09004.01, 
B12687HA45K-SX, Frost Smooth Hybrid White ,
QTY: 234 drums = 34.976k
g.
   3.  PPG Global –  Coating Powder Hybrid Gray,
QTY: 101 Boxes with 25kg = 2.525kg.   Contact Marcio 754-303-3881  or  marcio@pancha.com.br  
3/16/18  FOR SALE:  Powder coating/paint oven. 
30′ x6'x6′ (in 3 10′ sections,easily moved/shipped)  all burners controls,etc.easily adaptable for height. $4500.00.
  Dry filter paint booth (fully self contained) $500.00.   Contact Bill 2564428543 or e-mail rainbowpowderinc@bellsouth.net
3/16/18  FOR SALE: Used Nordson Colormax Booth
comes with (4) autos, (1)manual, (2) recips.
feed system and air compressor. Priced to sell at $28,500.  Contact Neil Barnett @ neil.barnett2451@aol.com or 231-499-3864 

 Preferred Coatings
3/5/18

WANTED TO BUY:

   Powder coating paint booth 10 x 8w x 8 .
Open face or closed, working, delivered to my place in BC Canada.  Contact Saaby Simal   604-724-6205  or  saabysomal@gmail.com
2/28/18

WANTED TO BUY: 
We are interested in
ALL USED Batch Powder Coating Equipment
including Batch Powder Coating Booths, Powder coating Guns, Batch powder coating Cure Ovens,  HI Temp Ovens >650F,   Pretreatment cleaning equipment, Media Blasting Cabinets,  Burn-Off Ovens,  Air compressors, and more. Will consider powder coating asset purchases as well.
  Email Mike  mikek@kecocoatings.com  ph# 317-356-7279  
2/26/18  FOR SALE:  1,000 ft of Unibuilt conveyor chain and a two (2) pass gas fired oven with side mounted burner box.
Outside dimensions of oven are: 23'W. X 30'L x 10'H. Both located in Peru, IN.  Contact Neil Barnett @ neil.barnett2451@aol.com or 231-499-3864

Preferred Coatings
2/22/18 WANTED:  Quote on installation of a used powder coating system.

Timing now

.  Contact Mike 614-361-1982 or mike@tenexincorporated.com
2/9/18  FOR SALE:  Powder coating line
includes 400′ of overhead conveyor complete with conveyor, floor supports, drive motor, lube unit, controller, and chain. + 3 stage wash unit that is 46′ long, + 14′ dry off oven with both IR and forced air heat as well as fans,  +  14′ powder spray booth with reverse pulse filter system,  + 28′ forced air cure oven with all the existing furnace ducting and vent pipes. This line is in use and can be seen operating. 
 For more info contact Darren   info@gccustommetal.com   
GC Custom Metal Fabrication, Alberta, Canada
1/25/18  FOR SALE:   Fluidized Media Stripping System  
Basket size 4'9" X 3'3" X 2'6" 

Teknicote, Inc

.
1/22/18  FOR SALE:  Three Used IR Ovens  
Opening Size: 3'W x 5'3"   

Syntec Systems  
1/3/18  FOR SALE:  Nordson Excel 2003 Powder Booth   
KoteQuip
1/3/18  WANT TO BUY:

Large powder coat curing oven and enclosed conveyor

.
Aprox 20'x 80'  w/ gas burner. Call Tom 616-262-7396
12/31/17  FOR SALE:  Used 5 Stage Stainless Steel Washer. 21 FPM. Opening is 4'W x 5'H. Contact Craig Collins  262-206-0212   craig.syntec@att.net   
Syntec Corp.
12/15/17  FOR SALE:  RAPID Batch Oven,
Model Number: 666,
Opening: 6' W x 6' H x 6' L, Exterior Dimension: 8'6″ W x 8'H x 8'L, Total weight: 6,000lb,  Burner box Dim 5.4 x 3.7 x 7.2 ft, Burner box weight: 1,300lb,
Gas Burner output:300 Btu/h x 1000.
 Contact purchasing@luckysupply.com
11/15/17  FOR SALE:  Powder Paint Booth plus Gas IR Oven and 2 powder containers.
This equipment also includes
Carousel Conveyor, 3 Powder Paint Guns & fire system.
Equipment will be shipped from Mission Texas. Pictures available.
Contact Angel Torres angel.torres@commscope.com
Commscope, Mexico
10/4/17  FOR SALE: Powder coating equipment never used:  
Skat Blast Blasting Cabinet,
 Powder Coating Spray Gun, Powders, Hooks, Plugs and 2 Stainless Steel Coffee Cup & Wine Glasses. Oven 4x4x6, Spray Booth 8x8x4, Suppression System, Air hoses, Dryers, Prseeure gauges, Case of Stainless Steel Cups by Axis, Ingersoll 2 Stage 60 Gallon Compressor. Have pictures of everything. Contact Jeremiah McDaniel 941-735-8851 or avlcustomcoatings@gmail.com
9/20/17  HURRY!:  Used Powder Coating Equipment.
Includes 8'x8'x10′ Oven, two 8'x'8'10' Spray Enclosures, Fire System, Refrigerated Air Dryer, CNC Machine, more!!  
Contact Adam Smith 601-754-0760 or adams@smithbroscc.com 
Smith Bros
9/20/17  FOR SALE:  Environmental Room with lights, air conditioner and structural steel. 29′ x 40′ x 12′ H. Contact Neil Barnett @ neil.barnett2451@aol.com or 231-499-3864

Preferred Coatings
9/20/17  FOR SALE:   Nordson 6 gun automatic with (3) collectors and sieves. Product opening 24″ W.x 27″ H. Contact Neil Barnett @ neil.barnett2451@aol.com or 231-499-3864

Preferred Coatings
9/20/17 FOR SALE:  2 used oven control panels.  Contact Neil Barnett @ neil.barnett2451@aol.com or 231-499-3864  

 
Preferred Coatings
9/20/17 FOR SALE: Used Nordson colormax powder booth with (4) automatics, (1) manual gun, (2) reciprocators and powder feed system. Product opening  18″ W. x 48″ H.  Contact Neil Barnett @ neil.barnett2451@aol.com or 231-499-3864  

 

Preferred Coatings
9/20/17 FOR SALE:   4,000 ft. of 458 (4″) conveyor chain for sale, including drives turns and takeups. Contact Neil Barnett @ neil.barnett2451@aol.com or 231-499-3864  

Preferred Coatings
9/19/17  FOR SALE in India:  Spray booth with recovery unit 2 nos, oven, compressor, spray gun. Contact METACOAT, Tamilnadu, India:  phone 9444950983, email   anandhi@gmail.com
9/5/17  FOR SALE:  Washer: dual entry 6 stage pass-through washer.  8fpm. Dual openings at 2'-6" wide x 3'-0" tall with control box boilers and plate and frame heat exchangers. Contact Craig Collins 262-206-0212  email: craig.syntec@att.net 

Syntec Systems
7/10/17  FOR SALE:  Powder Coating Oven.
Hoffman 8'H x 10'W x 8'Deep inside.
Gas fired 2 door with timer 5 re-circulations per minute. Fitted extras internal light & auto timer. Melbourne, Australia. Contact Russell Rayner russell@polynyl.com  phone: 0402222962  

Polynyl Plastics
6/27/17  FOR SALE:  Used Nordson Horizon 400 Powder Coating System.
Complete
 with Versa Spray II IPS 2 gauge Coat Control Unit,  4 Versa Spray Automatic Powder Guns, 3 Gema PGC Powder Control Unit (2 Gema Automatic Guns),  
2 Quick-Change Manifolds + much more.
Located in Atlanta.
$45,000 OBO
. Contact Damon Carson  303-321-1471 or damon@repurposedmaterialsinc.com  
5/20/17  FOR SALE:  Closing shop. Must sell everything!  6'x12′ Heavy Duty HPIR Pressure Island Wash Station. New in 2001.  Very light usage cleaning electronics. Paid$45,000 ( $29,995 plus $15,000 evaporator). All SS, includes the oil skimmer and and ozone generator. I have any pictures you need. It is a very clean unit. Asking $15,000. http://ezenvironmental.com/products/hpir/ We also have the waste water evaporator that pairs with the wash station that we are selling separately or can include in a package deal. located in San Leandro, California 94577. Ask us about add'l equipment we have for sale i.e., a 6'x6′ Pressure Island unit and an
ADF Systems Spray Booth. Contact Jason Kohler 510-376-4620 or jasonkohler@gmail.com   
Restoronics, Inc
5/9/17  FOR SALE:  600 to 800 ft of 3″ I beam conveyor chain with drive and take up unit and also corner turns, one high temp oven wheel all in very good condition. Would like an offer for it all. Call, email or text Jesse at 519-588-2440 or  jesse@jmlahman.com  

J M Lahman Mfg
5/5/17  FOR SALE:  TTX Immersion Pretreatment System.  Zinc Phosphate conversion process.
Kotequip
5/4/17  FOR SALE:   3″ conveyor components, 142 ft. of rail, drive, takeup, (3) 2′ R turns, (3) 42″ dia. 90 degree turns. Contact Neil Barnett @ neil.barnett2451@aol.com or 231-499-3864

Preferred Coatings
3/23/17  FOR SALE: Gas Infrared oven. 
Exterior dimensions 36 'long x 7' wide x 9 'high. Part openings 42 " wide x 60 " high. Eratec high intensity infrared reactors 4 350,000 BTU each. 20 Vulcan average intensity of 60,000 BTU each. Powder coated steel housing. Galvanized steel internal wave reflectors. Gas trains (2) 1.50 " complete including valves, Honeywell motorized valves, control zones, etc. Complete safety equipment according to CSA requirements. Full control panel including NEMA 4-12 enclosure, main circuit breaker, load and control fuses, magnetic motor starters, etc. 
Exhaust fan (2) of 2,500 cfm, engine 2.0 hp, 575 volts. 
Exhaust (2) of 10 " diameter. Contact Hugo Letarte 418-841-5572 or hugo.letarte@festo.com
3/20/17  FOR SALE:  Blastroom. 
Vacuum recovery sweep-in floor with all components less enclosure. 4 cubic foot pot. Hi-vac recovery fan with absolute filter system. Enclosure air change fan with absolute filter system. Auto blow down enclosure cartridge filter. One operator suit. Two each operator air support pumps. 100 CFM rotary compressor Rubber lined reclaimer. 
FOB Redwood City, CA,  Price $12,000.00. Call for details 650-218-4864 leave your phone #.  
ACS Engineered Systems
2/2/17 FOR SALE:  458 Conveyor System.  1,600′ of 4″ type 458 conveyor with trolleys on 2′ centers. 

Kotequip



2/2/17 FOR SALE:  Environmental Room.  44'w x 88′ l x 14'h, roll up door, air conditioning. 
Kotequip
1/7/17 FOR SALE:   Powder Coating Conveyor System Package. Upgrade your shop from batch processing to automated processing easily and very affordably. Two-part package include large oven plus conveyor and Wagner booth. Contact Larry Savage  larrysavage39@gmail.com  574-262-0224.
KoteQuip
FOR SALE:  Quality used robots available from Robotech Automation
FOR SALE:
 LOTS of Used Powder Coating Equipment for sale- CLICK this link for a current list of used and reconditioned coating equipment  
American Industrial Systems
Back to top of used equipment classifieds list
 Related Resources
 Used Powder Coating Equipment for sale