Powder Coating Hooks and Racking Suppliers
Parts racking is the key to efficient powder coating.
Proper parts racking (this includes the hooks you choose and how often you change the hooks out)  will have a major impact on the following items:
the operating efficiency of the powder system; the correct application of the powder coating; health and safety of the operators; costs associated with rack fabrication and their maintenance.  All of these areas can determine the profitability of the operation. 
Powder Coating Hooks & Racking 
Associated Rack Corp.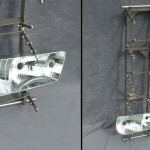 Quality, Custom Designed Racks, Baskets, Carts Powder Coating
70 Athens Drive,
Mt. Juliet, TN 37122
Phone: (615) 288-4403
Fax: (615) 288-4573
Caplugs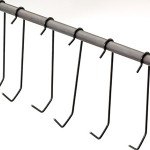 Our full line of hooks is extremely durable and made from high-strength spring steel to lock firmly in place. They also feature a high load capacity for consistent grounding with solid metal-to-metal contact, yet have a minimal hook mark. Custom lengths, angles and shapes are available in addition to accompanying racks.
Multiple locations -Call to find your local sales representative
Toll free: 888-CAPLUGS (227-5847)
Website: www.caplugs.com
D&W Tool and Findings, Inc.
A leader in the fabrication of hooks, rack and other holding devices used in powder coating.
304 Cottage Street
Pawtucket, RI 02860
Phone: (401) 727-3030
Fax: (401) 727-3032
Endura Corp.
Dedicated to helping our customers improve racking and unracking efficiency, improve process and part finish quality, and control overall racking costs with automatic and manual production racking machines
510 Chruch St.
Nokomis, FL 34275
Phone: (941) 488-8277
Fax: (941) 488-7383
EPSI
Buy hooks for your powder coating operation online.
Our Diamond cross-section hooks make for better current flow, less touch-up and holds more weight.
4221 Courtney Road
Franksville, WI 53126
Toll free: 866-ASK-EPSI
Phone: (262) 835-0782
Fax: (866) FAX-EPSI
Magic Rack/Production Plus Corp.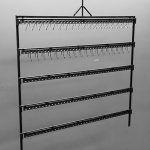 Creators of the multi patented Magic Rack® System
Specializes in the design and manufacture of powder coating racks, hooks and accessories.
2490 McGaw Road
Columbus, OH 43207
Phone: (614) 492.8811
Regal Springs Co.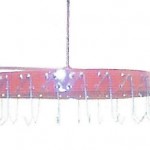 We are here to increase the efficiency of your powder coating line operations with custom-engineered racking solutions.
2140 Eakin Rd., Unit J
Columbus, OH 43223
Phone: (614) 278-7761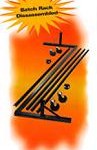 Sean James Enterprises
Specializes in providing ovenproof batch racks for powder coating applications. We are proud to offer the "Z Base Solution."
425 Tribble Gap Road
Cumming, GA 30040
Toll Free: 888-866-9826
Tilton Rack and Basket Corporation
Designers and manufacturers of racks, fixtures and baskets used for material handling in manual or automatic powder coating operations 
66 Passaic Ave.
Fairfield, NJ 07004
Phone: (973) 226-6010
Fax: (973) 227-4155
 Related Resources
 Powder Coating Hooks and Racking