Environmental Rooms
Powder Rooms
Modular Buildings 
Climate controlled environmental rooms are a must for trouble-free powder application. A good e-room controls proper air distribution, consistent temperature and humidity conditions. They can prevent fumes, spray dust and other results from the finishing process from infiltrating into other aspects of a company's manufacturing 
GAT Powder Rooms
100 Larkin Williams Industrial Court
Fenton, MO 63026
Phone: 636-343-6370
Fax: 636-343-6972
Website: www.gat-systems.com
We design our environmental enclosures, or powder rooms, to fulfill your specific job requirements, including environment-controlled powder storage areas.
In order to maximize your system performance, do not overlook the importance of maintaining a clean, climate controlled powder coating area for spray coating applications. Studies have shown that powder performs best when applied in a contaminant free, humidity and temperature controlled powder coating room.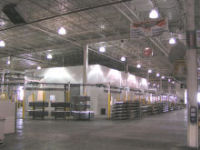 Powder Room Enclosure features:
* Three inch thick polystyrene encased on both sides by impact-resistant .090″ fiberglass reinforced sheet with an insulating value of R17
* Two inch thick insulated 2′ X 4′ grid suspended ceiling using construction similar to 3″ panel
* PolyCarbonate observation windows
* Single & double width personnel doors. Automated roll-up door
Powder E-rooms | Clean Rooms | Powder Rooms | Modular-Buildings
Angstrom Technology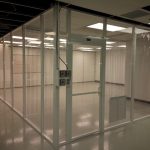 Cleanrooms, Modular Offices and Environmental Rooms
901 Northland Drive, NE
Rockford, MI 49341
Toll free: 888-768-6900
Fax: (616) 866-0080
Associated Environmental Systems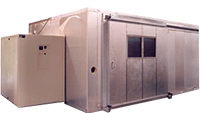 Offers a range of prefabricated, tight-tolerance environmental walk-in rooms that are easy to ship and install
Ayer, MA 01432
Phone: (978) 772-0022
Auto Technology
Environmental Test Chambers and Automated Metal Finishing Equipment
20026 Progress Drive
Strongsville, OH 44149
Phone: (440) 572-7800
Toll Free: (800) 433-8336
Fax: (440) 672-7820
B.I.G. Enterprises Inc.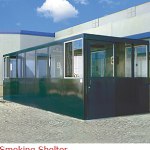 Quality booths, modular buildings and enclosures built to your spcifications
9702 E. Rush Streets
South El Monte, CA 91733
Phone: (626) 448-1449
Fax: (626) 448-3598
Chameleon Innovations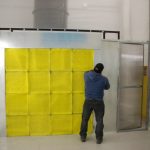 Rolling tarps and retractable enclosures. The "Chameleon Retractable Spray Enclosure" presents the latest innovation to serve the powder coating industry.
115 Hymus Blvd.
Pointe-Claire, QC
Canada, H9R 1E5
Toll free: 888-695-3382
Engineered Finishing Systems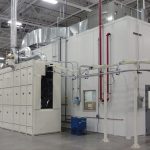 Designs customized powder coating booths that are typically installed in an environmental room to ensure trouble-free powder application and dirt-free parts. These rooms are equipped with automatic climate control systems designed to maintain an environment at optimal coating conditions.
390 East Congress Parkway, Suite J
Crystal Lake, IL 60014
Phone: (815) 893-6090
Fax: (815) 893-6888
GAT-General Automatic Transfer Co.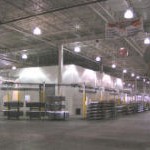 Clean rooms, climate controlled powder coating rooms for spray coating applications including environmental rooms powder storage areas.
100 Larkin Williams Ind. Ct.
St. Louis, MO 63026
Phone: (636) 343-6370
Fax: (636) 343-6972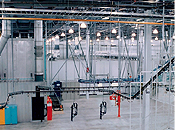 Herr Industrial, Inc.
Designs and builds insulated, controlled-environment clean rooms to house the powder booths and stored virgin powder.
P.O. Box 5249
Lancaster, PA 17606
Toll free: 800-700-HERR

Midwest Finishing Systems
Environmental rooms and clean rooms constructed of high quality, energy efficient, insulated modular panels, well-lit with custom controls to maintain proper air distribution, consistent temperature and humidity conditions.
1040 Cottonwood Ave.
Hartland, WI 53029
Toll Free: 888-281-0099
ModSpace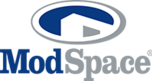 Modular Buildings
We build smarter and you reap the benefits.
Modular construction cuts build times in half, so you can open your doors and start earning a profit sooner.
Website:  www.modspace.com

National Partitions
Modular partitions and offices-Build for Change
National Partitions prefabricated walls are modular, so they can grow with you, or go with you.
10300 Goldenfern Lane
Knoxville, TN 37931
Toll free: 800-996-7266

Pneu-Mech Systems Mfg. LLC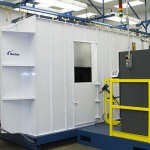 Our environmental rooms ensure consistent high quality application of paint and other finishes by virtually eliminating outside contaminants. Environmental rooms are clean rooms equipped with automatic climate control systems designed to maintain an environment at optimal coating conditions. They can prevent fumes, spray dust and other results from the finishing process from infiltrating into other aspects of a company's manufacturing areas.
201 Pneu-Mech Drive
Statesville, NC 28625
Phone: (704) 873-2475
Toll free: 800-274-5724

Provincial Partitions Ltd.
Providing Modular Space Solutions
5135 Creekbank Road
Mississauga, ON L4W
Canada
Toll free: (800) 387-7614
Portafab  Modular Systems


Modular Buildings and partitions
18080 Chesterfield Airport Road
Chesterfield, MO 63005
Toll free: 800-325-3781
Phone: (636-537-5555
Fax: (636) 537-2955

PPI Environmental Rooms
Modular Space Solutions-PPI Environmental Rooms are custom tailored to meet the requirements of powder coating operation needs. 
129 Glidden Road
Brampton, Ontario L6W 3LN Canada
Toll Free: 800-546-5515
Fax: 877-526-8973
TTX, Inc.


TTX environmental rooms are constructed using aluminum skinned foam paneling and are supported by a heavy steel framework, which also carries the conveyor through your powder coating equipment. A unique air distribution plenum is easily adjustable for circulated air uniformity and high performance light fixtures make coated part inspection easy. TTX environmental rooms are easily interfaced with your new or existing finishing systems.
1155 S. Neenah Ave.
Sturgeon Bay, WI 54235
Phone: (920) 743-6568
Fax: (920) 743-5486
Website: www.ttxinc.com
 Related Resources
 Modular Buildings | Partitions | E-rooms