Metal Repair Filler | High Temp Repair Fillers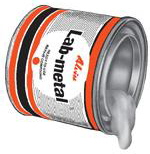 Alvin Products
Makers of the famous Lab-metal repair filler and high temp repair filler
85 Paris Street
Everett, MA 01843
Phone: (978) 423-7681
Fax: (617) 389-0484
Email: sales@alvinproducts.com
Website: www.alvinproducts.com
Lab-metal / Lab-metal 450 / Hi Temp Lab-metal 1000F
Non shrinking, high temperature metal filled repair and patching compounds
Powder Coaters & Fabricators:   Go watch the new "how to use Lab-metal" YouTube video 

Learn how Lab-metal is properly applied, spread, shaped and formed.
Plus learn how to incorporate the solvent while spreading before the solvent flashes off and the Lab-metal sets up before sanding and powder coating.


PowderMarket.com
Order your Metal repair filler and high temp repair fillers online
1-888-326-4840
Powder Coating Metal Repair Fillers  | High Temp Repair Filler
Dura-Chem, Inc.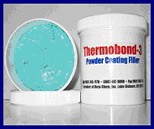 Thermobond-3 Metal Repair Compound for Powder Coating
Metal repair putty | Heat resistant metal repair filler 
Toll free: 800-447-5008
Phone: (951) 245-7778
Fax: (951) 245-7743
Website: www.thermobond3.com
JD Industrial Supply
Order your metal repair compound online
Phone: (734) 426-2475
M/s. PRKNTEK Engineering Solutions PVT LTD.
Piocol fixup-High temp metal repair filler withstands up to 545 Degree C
Malad West- Mumbai
Mumbai, Mahar
Phone: 0091 22 28710312
Fax: 0091 22 287 10313
Website: www.prkntekindia.in
 Related Resources
Metal repair fillers | High temp repair filler – Powder Coating